After undergoing a dental implant procedure, it can take anywhere from 2 to 6 months for complete healing. However, to accurately determine the duration of healing after getting an implant, various factors must be considered, including the type of implant, the skill of the dentist, and the oral health of the patient. To minimize the recovery time for dental implants, it is advisable to choose an implant type that can integrate with the jawbone quickly, undergo the procedure immediately after tooth loss, and only seek treatment from reputable dental clinics.
How long does it take for an implant tooth to fully heal
The implant is currently considered the most modern and effective dental restoration technique for missing teeth. However, it also has the longest healing time, typically lasting from 2 to 6 months.
The healing process after implant surgery goes through specific stages as follows:
Stage 1-2 days after surgery: The surgical area may be swollen, bruised, and slightly painful. This is a normal postoperative phenomenon, so you don't need to worry too much.

Stage 3-4 days after surgery: The implant site starts to reduce swelling and bruising, and the pain is almost gone.

Stage of recovery after about 2-6 months: The implant post begins to integrate into the jawbone and becomes firmly fixed. At that time, the dentist will place an abutment and a ceramic crown on top. The implant surgery is completed.
Of course, the complete healing time for dental implantation may vary for each person, especially during the stage of implant post-integration with the jawbone and surrounding soft tissues.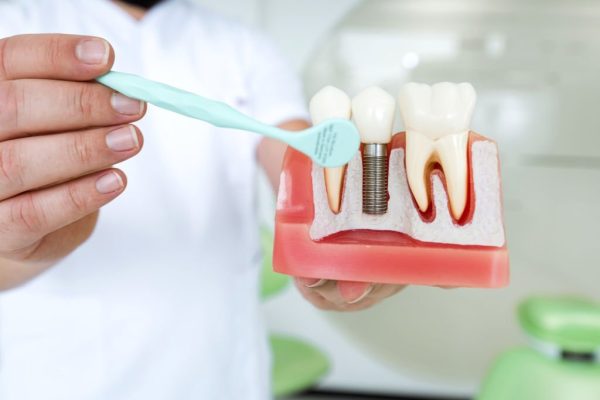 How long does it take for a bone graft to heal
In fact, the healing time after bone graft surgery depends on the individual's physical condition, but on average it takes 2-6 months for the bone to fully heal. For cases where the density of the jawbone has been significantly reduced due to long-term tooth loss or the bone is too soft and not thick enough, artificial bone grafting is necessary before implant placement.
The mechanism of bone healing after dental bone grafting still follows the principles of bone resorption and formation in the body. Therefore, it takes a certain amount of time for the newly grafted bone to integrate and slowly develop.
6 factors affecting the recovery time of Implants
As mentioned above, the recovery time after dental implant surgery varies from person to person and depends on six important factors.
Firstly, the skill of the performing dentist is a crucial factor that directly affects the success rate of the surgery as well as the healing time. The process of inserting the implant into the jawbone is relatively complicated. With highly skilled and experienced dentists, the implant placement process will go smoothly. Therefore, clients will avoid dangerous complications, and the implant's lifespan will be longer.
Secondly, the type of implant used determines the level of bone integration. Most types of implants take 2-3 months to integrate, but premium product lines can shorten the integration time to 4-6 weeks. Therefore, the faster the implant integrates with the bone, the shorter the recovery time.
Thirdly, supportive equipment such as modern diagnosis and treatment devices will help the surgical process achieve good results, limit postoperative complications, and help wounds heal quickly. Along with that, the unit's optimal sterile system also helps the recovery process proceed most effectively. The problem of sterility not only affects wound healing time but also affects customers' overall health.
Fourthly, the state of oral health is also a crucial factor in determining the time needed for implant surgery. Cases, where the jawbone is not damaged, will allow for a quicker implant placement process. Conversely, if the jawbone has been resorbed due to tooth loss for a long time, bone grafting and sinus lift may be required. In that case, implant placement will definitely take longer.
Fifthly, the constitution of each person also plays an important role in the recovery time after implant placement. For people with good physical condition and stable health, the wound will heal quickly. On the contrary, for those with a poor physical conditions or suffering from some systemic diseases such as cardiovascular disease, hypertension, etc., the healing time will definitely be longer.
Lastly, post-operative care at home is also a crucial factor affecting recovery time. If clients do not follow the dentist's instructions on how to care for the implant at home, there is a risk of infection or implant failure, which will prolong the recovery time.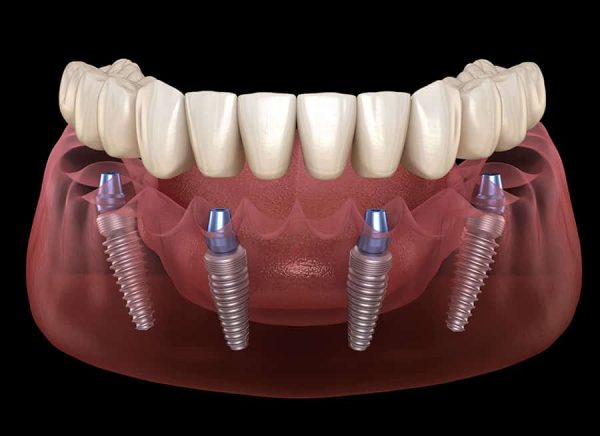 How to shorten the recovery time when implanting?
To shorten the recovery time after dental implant surgery, you should choose a type of implant post that has a fast biological integration, and perform the implantation immediately after tooth loss. It's also important to find a truly reputable dental clinic.
Choose Implant posts capable of integrating with bone quickly
There are currently many different types of implant posts available on the market, which not only vary in price but also in their ability to integrate with the bone.
High-quality implant posts are made from special materials and are treated with modern surface processing technologies to increase their bone integration ability. As a result, they can shorten the treatment time for customers.
Therefore, if you want to minimize the time required for the recovery process after implant post-placement, it is recommended to prioritize products with high biocompatibility and quick bone integration ability.
Please put Implant right after losing teeth
After about 3 months of tooth loss, the jawbone begins to gradually deteriorate. The tooth socket will shrink, leading to gum recession and premature aging. The opposing teeth to the missing tooth will lengthen. The adjacent teeth will tilt, causing misalignment and aesthetic loss. Therefore, after tooth loss, it is necessary to undergo implant placement as soon as possible to avoid the need for bone grafting, sinus lift, or dental treatment for problems caused by tooth loss.
Choose a reputable dental implant address
Finally, choose an implant dental clinic that is truly reputable, instead of solely focusing on price.
Choose a dental clinic with a team of skilled and caring doctors, a modern equipment system, and advanced technology. At the same time, it must be a unit that is highly rated by many customers, with clear pricing and long-term warranty policies.
How long does it take to get dental implants?
Typically, the process of placing an implant post takes around 20-30 minutes, but after that, you will need to wait for 3-6 months for the post to successfully integrate with the jawbone before completing the process with a ceramic crown on top. Therefore, the total time for getting an implant will also take 3-6 months to achieve the desired result.
 How long after getting a dental implant can I eat?
It is possible to eat about 3-5 hours after the Implant placement, but you should only consume soft and liquid foods that are easy to chew and swallow. Avoid chewing on the surgical site. However, to resume normal eating, you must wait until the Implant has fully integrated and the dentist has completed the dental crown placement, which usually takes about 3-6 months.
Home Dental Clinic – A safe and painless address for dental implants.
After many years of building and specializing in dental services, Home Dental Clinic is known as one of the top reputable addresses for implant dentistry in Vietnam. The implant services are handled by skilled and experienced specialists, along with a high-level advisory team led by Dr. Nguyen Anh Ngoc (a top graduate of the Dentistry Department at Hamburg University).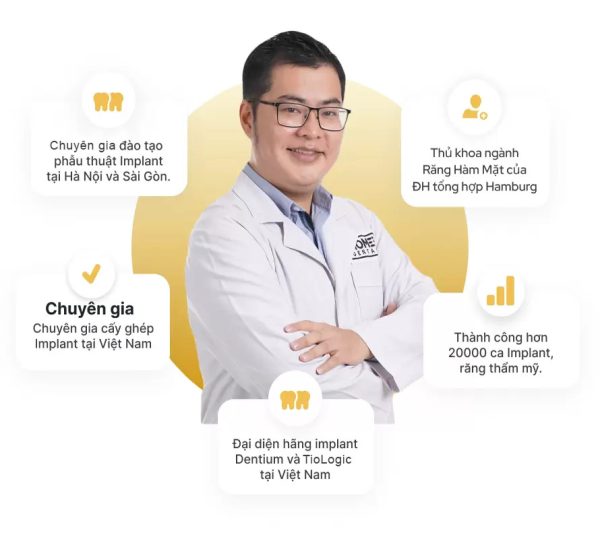 The medical equipment used in the implantation procedures is of high quality and standards, with 100% imported from European countries such as the Netherlands, France, the USA, and Italy. These include state-of-the-art machines like the cone beam CT ultrasound machine, Dutch Scan Trios 3D jaw scan, advanced implant dental restoration software, and CAD/CAM dental porcelain manufacturing machines.
Moreover, Home Dental Clinic has implemented many advanced implant technologies with unique advantages such as:
4S Implant Technology – Safe

5S Implant Technology – Painless and fast recovery

6S Implant Technology – Minimally invasive, durable for a lifetime
The operating rooms meet sterile standards, which minimize cross-infection and potential complications before and after the treatment.
In terms of the implant service quality commitment, Home Dental Clinic offers a warranty policy for dental implants that ranges from 7 years to a lifetime. The implant procedures, even the difficult ones, are carried out safely with a success rate of up to 99%. After the treatment, customers experience less pain, no complications, and faster bone integration within 1-3 months compared to other dental clinics.
The new implants offer the aesthetic appearance of natural teeth with strong and durable tooth roots and white, beautiful tooth crowns. Customers can chew and eat without worrying about implant stability, tooth loss, or rejection.
In conclusion, the recovery time for implant dentistry varies depending on many factors. However, the healing process for the implantation procedure cannot be completed within 1-2 days. The information provided in this article is for reference only. For accurate information, please leave your contact information or visit Home Dental Clinic, where our consultants and specialists will provide detailed explanations.
30, Trieu Viet Vuong, Hanoi

Phone: +84 914665656

Email: marketing@nhakhoahome.com