The best address for Invisalign Clear Aligners in Hanoi 2023
Where is the most prestigious Invisalign Aligners address in Hanoi, based on what criteria? If you are wondering about these issues, please read our article to know more about a top dental clinic that is widely recognized by everyone.
What are Invisalign Clear Aligners?
Invisalign is an aligner made exclusively at Invisalign USA. This is a method of orthodontic treatment without the use of mental braces. Instead of using orthodontic appliances that are fixed on your teeth, you will wear transparent, removable aligners.
Invisalign are made of transparent plastic, designed according to each person's jaw pattern. They fit snugly on the crown of the tooth, creating a tightening force to gradually adjust the teeth to move in the correct position on the arch.
Each orthodontic case requires 25 to 40 Invisalign aligners during the process of treatment. These aligners need to be worn sequentially in order until the orthodontic effect is achieved.
The Invisalign Clear Aligners procedure
The process of Invisalign treatment consists of 6 stages. 
Stage 1: Consult with your doctor
If you want to have Invisalign, the first thing to do is to have a consultation with a specialist. This is necessary because you need to know if the Invisalign method is suitable for you. 
Stage 2: Take teeth impressions and create the treatment plan
Firstly, the doctor takes X-rays of your oral cavity and your dental impressions. Then, the doctor sends them to the Invisalign company to produce a 3D rendering of your teeth. 
After that, the impression trays and a treatment plan will be made for you.
Stage 3: Preview the result and determine the duration of treatment
This is a special thing about Invisalign. You can see the result you will get after the treatment before you even start. 
Through ClinCheck, a short 3D animation, the doctor will show you the predicted result, as well as analyze the treatment direction and treatment time.
Stage 4: Wait for your Invisalign aligners to arrive
It may take a month for your aligners to be completed. Invisalign aligners are custom-made to fit perfectly in your mouth.
Stage 5: Wear your aligners and have regular check-ups
It is advised that you wear your aligners at least 20-22 hours a day to maximize the treatment's effectiveness. After each 2 or 3 months, you should be re-examined. 
Stage 6: Finish the treatment and wear retainers
After 1 or 2 years, based on each specific case, your Invisalign treatment will be completed. However, after you stop wearing your aligners, you still need to wear retainers to fix your teeth.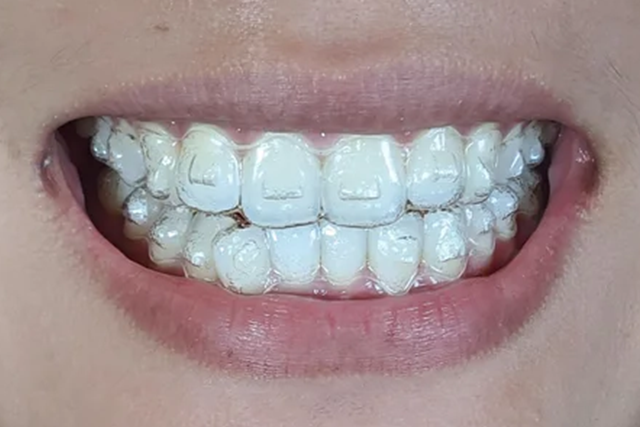 What demands must the Invisalign Clear Aligners address in Hanoi meet?
Invisalign method is currently being chosen by many people because of its aesthetics and orthodontic effect. However, finding a reputable place is not easy.
Here are some criteria for you to easily determine which dental clinic address to choose.
The address of Invisalign Clear Aligners in Hanoi must have a team of good medical staff
The doctor is the main factor determining the success rate of the treatment. Accordingly, the doctor must have good expertise, years of experience, and knowledge in the field of orthodontics to accurately perform each step of the process: the examination steps, determine the cause, take impressions of the jaw, plan the treatment, etc.
As a result, the Invisalign USA center can design braces that are suitable for your teeth in a short time.After wearing the aligners, you can be assured of safety without worrying about complications.
On the contrary, you may have to spend a lot of time waiting, even undergoing oral damage and facing different risks if you are treated by an inexperienced doctor.
Equipped with modern orthodontic machine
The machine is what helps the doctor to carry out the aligners process quickly and simply.
The advanced technology of Invisalign aligners is highly appreciated by orthodontists because of the application of modern technology and a specialized process. This will help ensure the accurate parameters and effectiveness at the very beginning of the process.
The address of Invisalign Clear Aligners in Hanoi needs to have a reasonable price
Cost is the top issue that patients are concerned about. Meanwhile, Invisalign aligners are the most expensive orthodontic methods today.
Many dental facilities are advertising Invisalign braces with shockingly cheap prices to attract customers. But in fact, those are poor quality braces with no warranty and customer care. Thus, patients might waste their money while their teeth still have many defects and their health is affected .
Therefore, you should learn carefully about where you get braces. Pay attention to the terms of warranty, customer benefits and risk treatments. Refer to reputable websites to measure what is a good and reasonable price for Invisalign braces, and thereby find the desired dental address.
Home Dental – A prestigious Invisalign Clear Aligners address in Hanoi
Searching for a reputable Invisalign Clear Aligners address in Hanoi on social networking sites, you will see a lot of information about Home Dental. Let's take a look at 8 reasons why you should get Invisalign here:
Team of highly qualified doctors
The doctors in charge of Invisalign Aligners service at Home Dental are all highly qualified, experienced people who have successfully performed thousands of orthodontic cases from simple to complex. Moreover, they are all well-trained at leading medical universities domestically and internationally.
In addition, the doctors also participate in seminars and intensive training on Invisalign orthodontics to improve their knowledge and skills.
Wholehearted customer care service
Customers when visiting Home Dental Clinic will be warmly welcomed by the reception staff, have their questions answered and receive specific instructions. 
The doctors at Home Dental will carefully examine and advise the most appropriate option for the customer. While using the service, you will be informed in advance about your treatment process. doctors always try to bring comfort and minimize pain for customers.
When your treatment is finished or after every follow-up visit, you will be carefully advised by your doctor about the best way to clean your teeth, how to eat, how to rest, etc.
After a few days, the customer service staff will call to ask about the customer's situation. If anything goes wrong, the doctor will support and help you solve all the problems quickly.
Modern facilities and equipment
Home Dental is a prestigious Invisalign Clear Aligners address in Hanoi with modern facilities, equipment. Customers can completely put their faith in Home Dental while being treated here.
In addition, the unit is constantly updating new machines and technologies to increase efficiency and shorten orthodontic time.
The orthodontic room has a closed, sterile design. This prevents the risk of cross-contamination.
Europe's leading orthodontic method
The outstanding difference of Home Dental compared to other units is the application of leading European technology to each method, helping the doctor to make an accurate plan and shorten the orthodontic time.
At Home Dental Clinic, there are 2 modern methods of braces and the most commonly used are Invisalign braces and bracket braces. Both methods are transferred from Germany.
Standard braces procedure 
According to the Ministry of Health, the Invisalign Aligners process at Home Dental meets the right standards. The whole process consists of 5 steps as follows:
Step 1: Examine the specific condition of the teeth.
Step 2: Provided that there is agreement between the customer and the doctor, the nurse will take impressions of the customer's teeth. Particularly with Invisalign Aligners, customers will be able to preview the treatment plan step by step through Clincheck software.
Step 3: The customer's dental data will be sent to Align Technology's server in the US. After receiving the data, the experts will begin to produce the tray.
Step 4: After 3-4 weeks, customers will come to the doctor to receive Invisalign aligners.
Step 5: The doctor hands over the Invisalign tray and instructs you on how to wear it correctly.
Flexible installment policy for customers
In order to reduce the cost burden for customers, Home Dental Clinic has an installment payments policy on Invisalign for all customers.
In addition, customers can pay installments directly with the unit or through the bank, which is very convenient. Regarding procedures, documents, the clinic's consultants will support and guide customers enthusiastically, so it will not take too much time.
Long term warranty
After the process of aligners, customers can enjoy the warranty of the clinic. If the orthodontic effect is not as committed, Home Dental will fix and follow the customer until the desired effect is achieved.
The cost of braces is suitable 
The prestigious Invisalign address in Hanoi chosen by many people will have a price suitable for all customers.
Getting Invisalign at Home Dental, you can choose from a variety of aligners with different prices. The doctor will give you advice based on your dental condition as well as financial ability.
In addition, the clinic also has an installment policy as well as preferential programs to help you feel more comfortable about the cost. Most importantly, after signing the contract, the unit will commit not to incur any additional fees.
In conclusion, according to the criteria above, Home Dental is such a prestigious dental clinic with highly qualified Invisalign Clear Aligners service. For further information, Visit the clinic in person or call the hotline number.
Address: 30 Trieu Viet Vuong street, Nguyen Du ward, Hai Ba Trung district, Ha Noi.
Hotline: 091 466 56 56.