Dental implant – More than an option for a missing tooth
An implant is considered as the best option for a missing tooth, thanks to its efficiency and stability. It fuses to the jawbone and acts like a mature tooth. Implants can change your oral health as well as the quality of your life.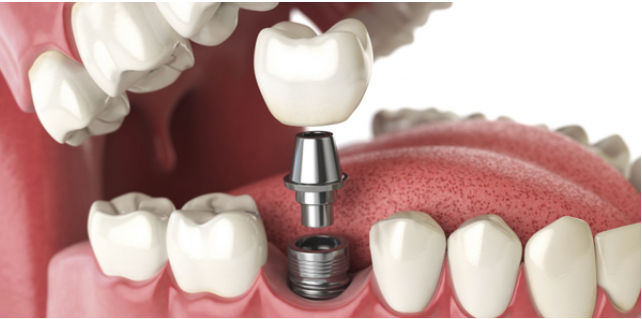 There are a lot of advantages that dental implants offer:
+ Improved appearance
When teeth are lost, the bone that supported those teeth is lost too. Placing dental implants stabilizes the bone, preventing its loss. Not only replace lost teeth, but implants also help maintain the jawbone's shape and density. This means they also support the facial skeleton and, indirectly, the soft tissue structures — gum tissues, cheeks, and lips.
+Easier eating
If dentures always slide or shift in your mouth and make chewing difficult, dental implants function like your nature teeth, allowing you to eat your favorite foods with confidence and without pain.
+ Improved oral health
Dental implants don't require reducing other teeth, as a tooth-supported bridge does. Because nearby teeth are not altered to support the implant, more of your own teeth are left intact, improving long-term oral health. Individual implants also allow easier access between teeth, improving oral hygiene.
+ Improved speech
With poor-fitting dentures, the teeth can slip within the mouth causing you to mumble or slur your words. Dental implants allow you to speak without the worry that teeth might slip.
Improved comfort. Because they become part of you, implants eliminate the discomfort of removable dentures.
+ Durability
Implants are very durable and will last many years. With good care, many implants last a lifetime.
+ Convenience
Removable dentures are just that; removable. Dental implants eliminate the embarrassing inconvenience of removing dentures, as well as the need for messy adhesives to keep them in place.
+ Improved self-esteem
When one of the teeth in front is lost, it takes your smile away. Dental implants can give you back your smile and help you feel better about yourself.
How you have your missing tooth/teeth restored with a dental implant at a Home dental clinic:
Restoration with dental implants will be completed within 4-5 visits:
+ 1st appointment: Examination and consultation
This step includes an initial exam and image diagnosis with a 3D cone beam CT scan, questions about your dental and medical history, and a discussion of your treatment options. Based on the 3D scan, the surgeon can measure the height and bone density, then decide whether you are a candidate for implants or not and choose a suitable implant size.
+ 2nd appointment: Implant placement
A titanium dental implant post will be placed into the jawbone. The site is then closed with sutures. You will then return to the office about 7-10 days later to have the sutures removed and the surgical site examined.
+ 3rd appointment: Abutment placement
After 2-4 months, the post and the bone have fully fused with one another. The surgeon will put an abutment into each implant post. This abutment extends above the gum line and an impression is taken. This impression is sent to the dental laboratory to create your custom crown.
+ 4th appointment: Permanent crown put in
The crown is cemented permanently to the implant. The restoration is completed and you can eat normally with your new tooth.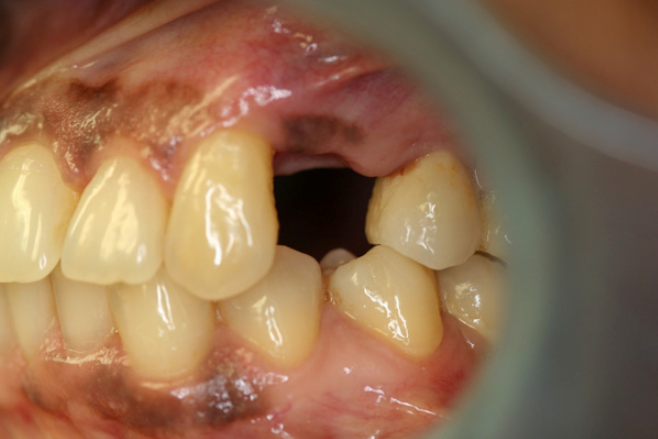 What are available options for implant replacement at Home Dental Clinic?
+ Single tooth replacement: an implant offers a stable replacement and a secure fit.
+ Fixed multiple tooth replacement: replace multiple missing teeth with individual implants or an implant-supported bridge.
+ Full arch replacement: An economically stable solution for the replacement of a complete set of upper or lower teeth. The surgeon will place 4 or 6 implants to hold an overdenture.
Why choose Home Dental Clinic for dental implants?
+ We offer you the best implant products, which help you to have stable long-lasting restoration.
+ You will be treated by the best implantologist in town, who was well-trained in Germany and graduated with an excellent degree. He has done successfully more than 1150 cases.
+ State-of-the-art facilities, especially 3D image diagnosis system, Ultrasonic Piezotome surgery, and NSK Surgic Pro, which offer precise treatment results, prevent and control most of the risks that may happen during the process.
If you want to find a decent dental clinic to stop all your dental problems, please feel free to contact us at +84 914665656 or homedentalvn@gmail. It's our pleasure to support you.
Kindly fulfill the form below to make an appointment and please do not forget your email, then we can contact you for detailed consultation and pricing.