Home dental clinic offers you 2 options for teeth whitening:
+ 1st option: Home bleaching
For this option, your dentist will take a dental impression of your teeth to do private bleaching trays, then give you 2-3 home-use tubes of whitening gel.
You will wear whitening trays every day and will see your teeth improved after 7-10 days.
Whitening at home is highly recommended for those who want to have time to get used to the whitening gel.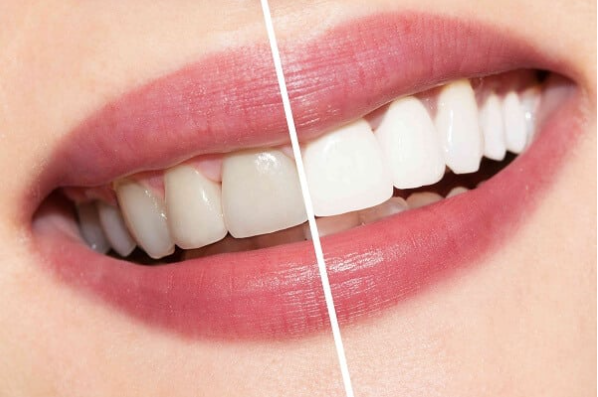 + 2nd option: In-office teeth whitening – laser whitening
This option is fast and efficient. You will see the change right after the treatment and it is within 1 hour over 1 visit only. If you take in-office whitening, the dentist will take pictures of your teeth before and after whitening, then you can easily compare the result.
In-office teeth whitening is highly recommended to those who have limited time and want an instant result.
In case your teeth are so dark and 1 method of home bleaching or in-office teeth whitening cannot help much, a combination will be a great choice to have the shade that you want.
Special note: Whitening does not work on ceramic crowns/veneers.
How much does teeth whitening cost at Home Dental Clinic?
Home bleaching: $66/set, including bleaching trays (for the upper and lower jaw) and 3 tubes of whitening gel
In-office teeth whitening: $108
In-office teeth whitening combined with home bleaching: $174
If you want to find a decent dental clinic to stop all your dental problems, please feel free to contact us at +84 914665656 or homedentalvn@gmail. It's our pleasure to support you.
Kindly fulfill the form below to make an appointment and please do not forget your email, then we can contact you for detailed consultation and pricing.