Veneers are thin shells of porcelain, which cover the front surface of your teeth. Besides crowns, veneers are considered the best restoration method with a lot of advantages:
+ Very small amount of dental enamel will be removed for veneers
+ Porcelain veneers are resistant to stains. So you can enjoy a brilliantly white smile, without having to worry about the problem recurring in the future.
+ Improve your appearance without changing your bite. Veneers can help with cosmetic flaws, including Cracked teeth / Chipped teeth / Tooth discoloration / Gaps between teeth / Poorly shaped or sized teeth.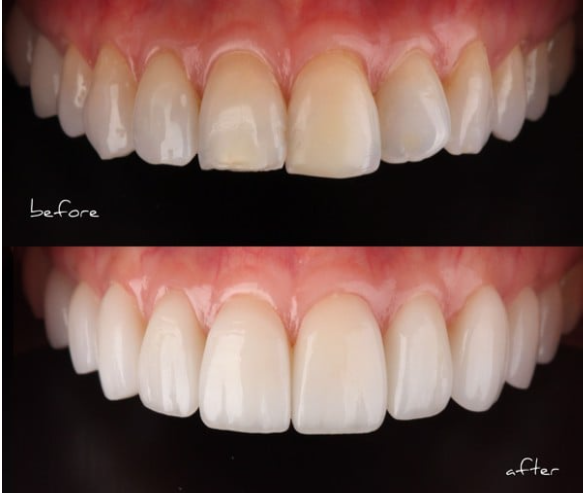 The procedure to have veneers is similar to crowns. You can have your teeth fixed with porcelain veneers within 2 visits only.
+ 1st visit is for examination, consultation, and teeth preparation
+ 2nd visit is for cementing.
If you have time, a follow-up visit for a final check-up will be arranged 1 or 7 days after cementing to make sure you completely feel comfortable with the results.
Why choose Home Dental Clinic for laminate veneers? 
+ We use Emax Press, the best porcelain material imported directly from German to do veneers. The transparent color and lifelike shape ensure that it is unlikely to be noticed amongst your own natural teeth.
+ All veneers are made with CAD/CAM techniques for the quickest and perfectly fitted veneers
+ High-quality full porcelain veneers at very reasonable prices.
+ 10-year warranty
+ You will have a better smile after the treatment with a skilled dental expert who was well-trained in Germany and graduated with an excellent degree. He speaks English and German fluently and will give you the best consultation.