The issue of whether getting dental implants will cause bad breath is a common concern for many customers. This is because bad breath often occurs immediately after getting implants, which can lead to misunderstandings. To understand this matter more thoroughly, let's delve into it further in this article.
Does Dental Implant have bad breath?
If you are considering dental implant surgery but are worried about the possibility of bad breath, rest assured that implants are designed to have a structure and function similar to natural teeth, and they do not cause bad breath if the procedure is performed correctly and with proper technique. This technique has been developed and used for decades worldwide without causing any significant health complications.
Materials such as Titanium implant posts, abutments, or porcelain teeth have been treated with advanced technology to eliminate any reactions in the oral environment. Therefore, the likelihood of bad breath caused by dental implants is non-existent.
However, after getting dental implants, there are many factors that can affect and create breath odor. It is these factors that can lead customers to mistakenly believe that bad breath is caused by improper implantation.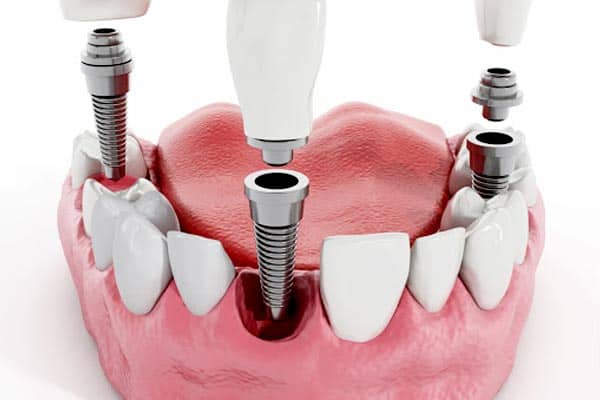 Causes of bad breath after dental implants
The issue of bad breath after dental implant surgery can originate from various causes. Identifying the source of bad breath is always a challenging problem for both dentists and patients.
Here are some possible causes that you should pay attention to and check if your breath has an unpleasant odor.
Reasons from customers
Improper daily cleaning
After dental implant surgery, bad breath can be caused by the way a customer maintains their oral hygiene. Although porcelain teeth are resistant to bacteria and food residue, the area where the gums meet the implant can be different.
This is an area where food particles can get trapped, leading to the formation of dental plaque and the attraction of bacteria. When a sufficient number of bacteria gather, they release an unpleasant odor.
Eat a lot of smelly foods
Strong-smelling foods like shrimp paste, garlic, and onions can linger in the gaps between teeth if not properly cleaned after eating. While these smells can be easily washed away by saliva, issues with the salivary glands can cause bad breath to persist and be mistaken for a problem with the dental implant causing bad breath.
Having bad breath from the inside
Bad breath can originate not only from dental issues but also from some medical conditions such as constipation, gastric inflammation, etc. These conditions can cause a strong and unpleasant odor in the breath. Inexperienced professionals may mistake this type of bad breath for the one caused by food debris stuck in the teeth, leading to the misdiagnosis of bad breath being caused by dental implants. It is important to consider other factors in a patient's lifestyle when diagnosing the root cause of bad breath.
dental clinic causes
Halitosis after dental implantation may not solely originate from the client's oral hygiene habits, as there are some reasons from the dental clinic's side that need to be considered.
Infection after Implant
If an Implant tooth is infected, it not only causes pain and discomfort but can also create an unpleasant odor.
The main reason for this is the surgical instruments and dental prostheses are not being thoroughly sterilized. Or it could be due to the implant surgery room not being properly disinfected according to the correct procedures.
The doctor installs a porcelain crown that doesn't fit well
When placing a dental implant crown onto the abutment, there is almost always a small gap. This area can easily trap food debris.
Experienced dentists with excellent skills can place the crown as closely as possible. This reduces the likelihood of food getting stuck, and if it does get trapped, it is easier to clean.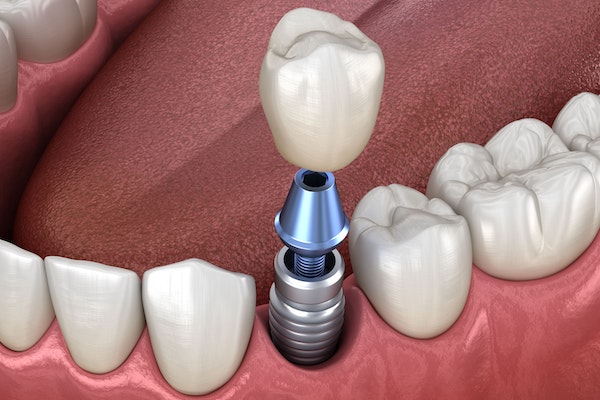 How to handle bad breath after a Dental Implant
Go back to the doctor
Dealing with the problem of bad breath from dental implants is not too difficult. The first step is to revisit the dentist who performed the implant.
After examination, if the cause is determined to be an error from the dental clinic, the dentist will proceed to fix it free of charge.
In case of infection, if detected early, it is simple to disinfect and take antibiotics. If left untreated, the infection can spread, and the implant may have to be removed and re-implanted from the beginning.
If the cause of bad breath after a dental implant is due to improper nutrition, you need to adjust your daily diet. You should limit the intake of high-sugar or high-starch foods and instead eat more green vegetables, and fiber and supplement your body with sufficient antioxidants.
These foods not only help you maintain a healthy, firm body and stay away from hypertension and cardiovascular disease but also effectively kill the bacteria that cause bad breath. In addition, green vegetables will help you maintain the necessary moisture for your mouth, thereby improving the bad breath you are experiencing after a dental implant.
If you follow a healthy diet, you can reduce the risk of bad breath caused by dental implants and maintain good oral hygiene.
Improve your dental care
Improving proper dental care is the best measure to prevent dental diseases and also helps to address bad breath after implant placement. You should use a soft-bristled toothbrush to clean your mouth twice a day. Daily removal of plaque and bacteria on the teeth and in between teeth can help reduce the risk of bad breath. Additionally, it is recommended to use dental floss to optimize cleaning between teeth and maintain oral hygiene.
Implant without bad breath at Home Dental
Finding a reputable dental clinic is the best way to prevent bad breath after getting dental implants. While it may not completely eliminate the issue, at least it can minimize the risk stemming from the dental clinic's side.
Home Dental is a pioneering dental clinic that brings German dental standards to serve Vietnamese people nationwide. With almost 6 years of formation and development, the clinic has brought confident smiles to over 20,000 customers every year.
The team of dentists at Home Dental are all graduates of top-notch universities with extensive training through workshops and courses at reputable German dental schools. With over 5  years of experience in the field, they have successfully performed thousands of dental implant procedures.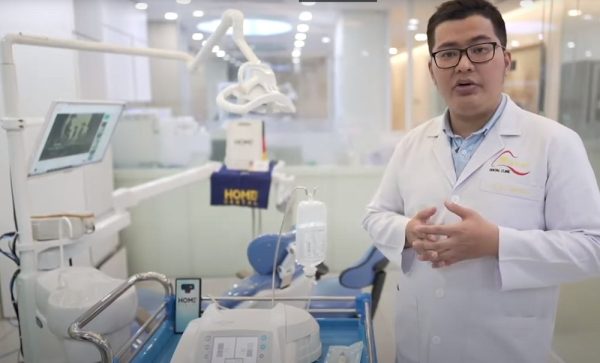 Home Dental's philosophy is that a smile can change lives, so the technologies used at the clinic are always advanced, exclusive, and meet German standards. The implantation process at Home Dental always meets the standards, with sterile and safe instruments. Thus, you will not experience cross-infection issues commonly found in untrustworthy dental clinics.
Before you get dental implants, the dentists will examine your oral health, so there will be no cases of bad breath caused by dental diseases. You will no longer have to worry about bad breath after getting dental implants. Home Dental always commits to providing the best services and results for patients getting dental implants.
To prevent bad breath from the beginning, you should choose a reputable dental clinic to perform dental implant exams and procedures with the best results.