Dental Bridge or Dental Implant: What to choose?
When patients have a tooth that becomes loose and falls out, they will have their health and also their chewing function affected. A lost tooth also adversely affects the aesthetics of the face. Thus, choosing a dental method of restoring teeth is essential. Among the tooth restoration methods, Dental Bridges and Dental Implants are the two most popular and aesthetic methods today. Patients may wonder what method they should choose. Now let's weigh up the pros and cons of each method to know what you should choose.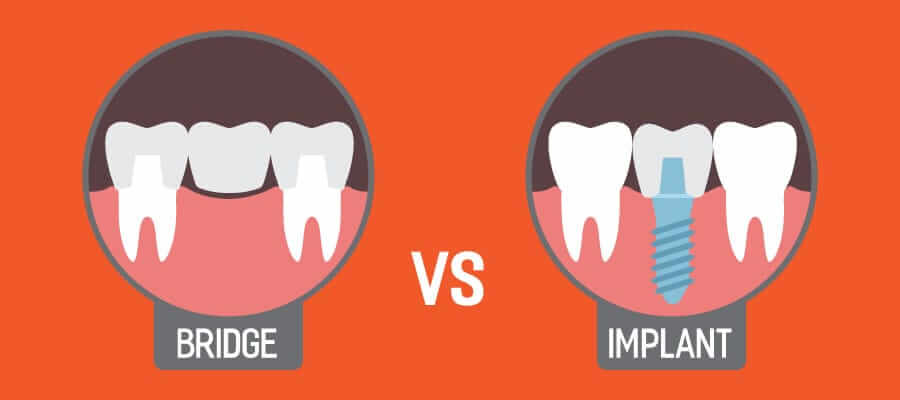 What is a Dental Bridge?
Dental Bridge is a popular tooth restoration. A Dental Bridge replaces the lost tooth with a false tooth called pontic. Unlike dentures, Dental Bridge is fixed on your teeth and can not be removed. The common material for bridges are porcelain and metals (zirconia and gold alloy). 
The Dental Bridge consists of two parts: the abutment and the pontics. The pontics are the artificial teeth, and the abutment are the joint connectors that support the teeth.
There are 4 different types of bridges:
Traditional Dental Bridges

Cantilever Dental Bridges

Maryland Dental Bridges

Implant-supported Bridges
The dentist will advise you on what type of bridges you should get based on your oral health condition and also your preferences. Whether you have oral disease such as tooth decay, gum disease, etc or not will affect what type you should use.
Advantages of Dental Bridge
Restore the chewing function so that you can eat normally

Have a relatively high aesthetic value, offering patients teeth of natural beauty and a beautiful smile

Prevent tooth misalignment by preventing the adjacent tooth from shifting

The cost of treatment is cheap.

Restoration time is short and can be completed in as little as 3-4 visits to the dentist, or even just 2 visits.
Disadvantages of Dental Bridges
The patient needs to have the surrounding teeth on both sides of the teeth grinded  so that a porcelain bridge can be attached. As a result, these teeth are no longer preserved. 

The patient may experience bone loss.
What is Dental Implant?
Dental implantation is a widely accepted procedure to replace missing teeth. This procedure is a sophisticated surgical technique that requires a high level of expertise. Dental Implant uses artificial roots made of titanium to replace the real teeth. 
An Implant tooth includes:
Post: the post will be placed into the jawbone to support the tooth

Crown: The crown is put onto the post to that the tooth has the same shape, size and color as your teeth

Abutment: Abutment is a joint to connect the post and the crown
The two types of Dental Implant are: 
Endosteal Implant

Subperiosteal Implant
Advantages of Dental Implant
Preserve the jawbone

The structure of the implant is similar to real teeth, so it can bring confidence and comfort to the patient after surgery

The function of adjacent teeth will not be affected

The lifespan of the Implant method is relatively high, up to several decades, and even a lifetime

High aesthetics.
Disadvantages of Dental Implant
Dental Implant has a high cost

Should tooth loss be restored with Dental Bridges or Dental Implants?
Dental Implants and Dental Bridges are both highly appreciated methods of tooth restoration today. So between these two methods, which is the better one? Let's go through some important factors you should consider when choosing your tooth restoration.
Patients suitable for each method
Patients suitable for Dental Bridge
To carry out a Dental Bridge procedure, the patient is required to grind teeth enamel  to build the bridge abutment. Both 2 adjacent teeth to the missing tooth need grinding. Therefore, this method is only suitable for patients who have lost only one or a few teeth. This method cannot be performed if the patient has lost the second molar or the wisdom tooth as if it is the case, it will not be qualified enough to build a bridge.
Patients suitable for Dental Implant 
In the case of Dental Implants, Titanium posts will be used so that the missing teeth are directly replaced with the Implant teeth. Therefore, Implant can be applied to all cases, from patients who lose one tooth, several teeth or even lose all teeth, which the bridge method can not do.
Cost of each method
Cost of Dental Bridge
There are many factors that can add to the treatment price so the price may can vary
The number of teeth that are missing and the number of pontics to fill the gap left by missing teeth

The materials such as zirconia, composite resin, metal alloy covered in resin, etc.

The difficulty or the complexity of the installation 

Patients' other dental problems

that need treatments such as tooth decay or gum disease
However, the price of Dental Bridge in general is rather cheap. This is a very economic method to restore lost teeth. Thus, cost is a plus point of this method.
 Cost of Dental Implant
The treatment price includes: 
A dental examination and consultation

The Implant device, including the Implant post, the crown and the abutment, and its installation 

Other surgeries to treat dental issues if needed, such as bone grating, sinus lift, etc.
To sum up, the total cost of a Dental Implant procedure is relatively high. Therefore, many patients have reconsidered using this method because of its expensiveness. 
Effectiveness of each method
Effectiveness of Dental Bridge
This is an effective restorative method. After Dental Bridge, patients will have aesthetic teeth and have their chewing function enhanced. However, due to enamel tooth grinding, it is more likely that the adjacent teeth will suffer damage from the eating process, allowing the food to easily get stuck in the tooth border areas.
In particular, if the patient's oral hygiene is not guaranteed, it will contribute to creating favorable conditions for the bacteria in the mouth, leading to dangerous diseases such as tooth decay, periodontitis, gingivitis, etc. 
Effectiveness of Dental Implant
Dental Implant gives patients high efficiency and a long warranty period, high aesthetics and low complication rate. Therefore, this method is always appreciated by dentists and encourages patients to choose.
Time of each method
Time of Dental Bridge
As mentioned above, this process is very quick. Patients can have their missing teeth restored after a short period of time – just a few weeks.
Time of Dental Implant
The Dental Implant process includes drilling into your jaw and attaching the post to the jaw. You will have to wait for your jawbone to heal after these surgeries before finally getting the crown placed into your mouth. In the meantime, you will have a temporary denture. 
The total time needed for the whole process is from 2 to 6 months, spending on each specific case.
Conclusion
In conclusion, to know which method is suitable for you, you need to consider if your health condition is eligible for the method, the cost, the effectiveness and the time of each method. However, to be certain about what method you should use, you should go directly to a reputable dental clinic or medical facility to be examined by a specialist doctor and checked on the condition of the tooth, thereby finding the method that best suits your condition.
Alternative to Dental Bridge and Dental Implant to restore tooth loss
Denture
Denture is one false tooth or a few false teeth made of acrylic, nylon or metal to replace patients' missing teeth. Unlike Dental Implant or Dental Bridge, it is able to be removed. 
Despite being an effective solution, Partial Denture is not as common as these two methods above. This is because this method needs more effort and care. Patients need to take care of their dentures everyday.
Moreover, patients are often not familiar with the feeling of having something in their mouth. Therefore, it takes quite some time to get used to the dentures. This can be somewhat uncomfortable for patients.
Dental Flippers 
A flipper tooth is a prosthetic tooth. Flippers are similar to dentures, but they can only be used to replace one missing tooth. Therefore, patients with several missing teeth can not use this method.
For patients with one lost tooth, flipper tooth is a much more inexpensive alternative to Dental Implant or Dental Bridge. However, a drawback of this method is that it is a short-term method. Thus, it can not act as a permanent solution to tooth loss. Instead, dentists often recommend this method to temporarily treat missing teeth as the patients await permanent treatment.
In conclusion, Dental Implant and Dental Bridge are both effective and popular methods of tooth restoration. By weighing up the pros and cons of each method and the factors that you need to consider when choosing a restorative dental solution, you certainly have an idea of which method suits you. If these two methods are not the right one for you, there are different alternatives such as dentures or flippers. However, it is important to consult with your dentist and listen to the dentist's advice as this is the best for your dental health.