Dental Implant surgery – The most advanced solution to revive teeth
Dental implant surgery is an effective solution for damaged or missing teeth, trusted and chosen by many customers. What is so special about dental implant procedure? The article below will provide accurate information about this effective dental technique. Check it out now!
What is Dental Implant?
Dental Implant surgery is a procedure that involves replacing missing teeth with artificial tooth roots. These roots are implanted into the jawbone as an alternative to real tooth roots to support tooth crowns. Given that, dentists will completely replace the missing teeth, both the crowns and the roots. 
Advantages of Dental Implant
Effectively prevent the bone resorption after tooth loss
Recover the ability to chew well (Dental Implants are far more strongly built than real teeth) Improve appearance (the shape, size and color of Implants are identical to natural teeth)
Enhance oral health and health status in general, prevent dental problems such as bone loss, gum disease, and tooth decay
Stabilize and hold  teeth in place, prevent teeth from moving without using adhesives
Last forever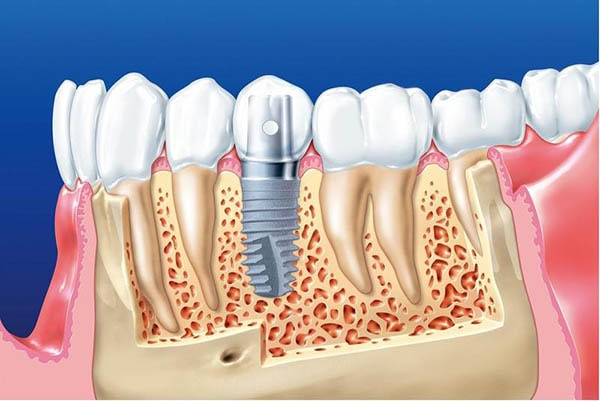 Disadvantages of Dental Implant
Despite being a high-quality technique, Implant fixtures do have its own limitations. The disadvantages of this procedure are mentioned below.

Require experts of high qualifications and experience.

Need modern equipment and aseptic technique

Performed with rare and precious materials so the cost is relatively high

The risks encountered are often more dangerous than other methods
The suitable age for Dental Implant
The most suitable subjects for the Implant method are people from 18 to 50 years old. So what about people under 18 or above 50?
Under 18
This is the age when dentists recommend that patients not have Dental Implant. Because during this time, the jawbone system is still incomplete. Therefore, performing Implant surgery during this period may harm patients' jawbone system and cause great consequences for the foundation and development of the bone structure.
Above 50
According to experts, the elderly (50 or above) need dentists' consultation in order to decide whether to have Implant or not. The elderly must ensure their general health status and oral health to be able to have Dental Implant surgery.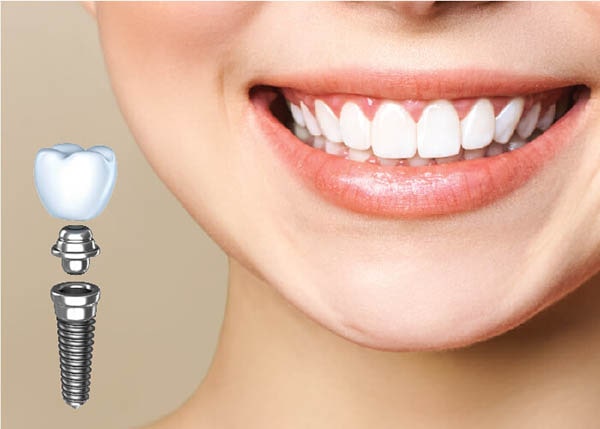 Is Dental Implant surgery painful and dangerous?
Dental Implant technique requires the use of scalpel and scissors in order to place the Implant roots  into the jawbone, hence, pain is inevitable. However, with high-quality anesthetic, it will no longer be patients' concern. 
At Home Dental, Implant technique is carried out safely and easily, helping patients feel comfortable during the treatment process.
With modern technology, Implant surgery performed directly by skilled professionals with many years of experience will minimize your pain to the lowest level.
To prepare well for the treatment process, the patient will be anesthetized by the dentist before the procedure.
Anesthetic at Home Dental is of the finest, imported from reputable dental groups in the world, so you can be assured of the safety and quality of the product.
In order to prevent tooth sensitivity that may occur after the surgery, the dentists at Home Dental will prescribe pain medication to help customers reduce pain and sensitivity.
Regarding the safety issue of Implant surgery, you can rest assured because this method does not negatively affect your health. Before the treatment, you will be carefully examined and the level of your jawbone will also be carefully measured. 
Moreover, the implant itself is made of titanium – a specialized dental material that is proven to integrate bones quickly and not irritate the gums so you can eat, drink comfortably and live normally just like before the surgery.
Things to note before and after the Dental Implant surgery
Before the Implant surgery
Gum condition: Long-lost teeth will make gums gradually become flat, not suitable for applying dental implant methods. Therefore, you need to reshape this part of the gums. Experts suppose it usually takes about 3-6 months for the patient to complete the gum shaping procedure.
In addition, please note that the gums need to be thick enough to perform the best Implant placement. If the gums are too thin, the dentist needs to perform gum graft surgery.
Bone condition: Whether the implant is sustainable or well-integrated depends greatly on bone density. The bone needs to meet the standards in width, length and height to help the implant post have enough space to firmly attach to the jawbone. According to dental implant standards, each dimension must meet 1 mm of bone density to be able to place and hold the implant.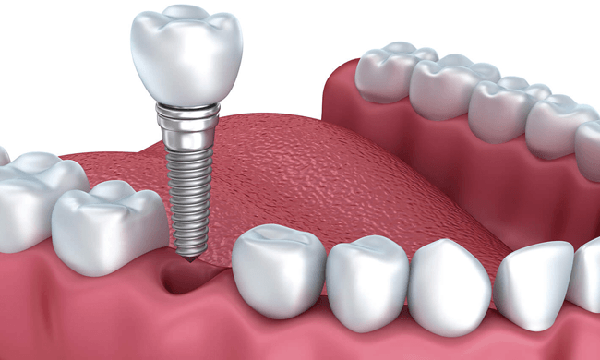 After the Implant surgery
Diet: After the Dental Implant surgery, patients need to minimize foods that are too tough, too hard and foods that contain a lot of acid and sugar.
Oral care regimen: You need to brush your teeth properly at least twice a day in the morning and at night. Also, you should floss after every meal. Dental floss works to clean plaque on teeth effectively to ensure that there is no bacteria on the implant teeth.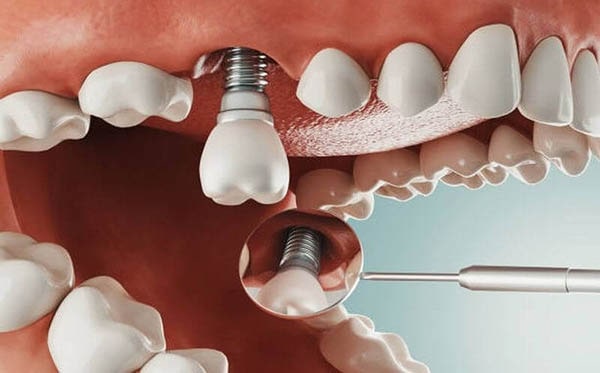 Not only that, dentists also recommend using mouthwash after the Implant placement. Regular use of mouthwash will help keep the oral cavity completely clean, ensuring that the newly implanted teeth are completely protected.
Regular check-up every 3-6 months: To make sure that the Implant process does go wrong, you should see the doctor after every 3-6 months. This helps you detect and fix problems early.