Now that you understand the differences between child and adult braces, the next step is to find the best dentist and dental clinic for your needs. Here are some tips to help you find a good dentist near you and the best dental clinic in Hanoi:
Home Dental Clinic – which is trusted by the German Ambassador in Hanoi.
DENTAL CARE STANDARDS FROM HUMAN TO EQUIPMENT
Germany is a leading country in the world for healthcare services in general, especially in the field of dentistry. In Germany, there are hundreds of leading companies in dental technology, providing direction for development and trends in the field of dental care. Here, all treatment methods are standardized to bring optimal treatment results.
Home Dental Clinic was founded with the desire to bring a standard experience of German dental care to everyone. Led by Master – Doctor Nguyen Anh Ngoc, the clinic has developed a team of highly skilled doctors who are trusted by many customers both domestically and internationally.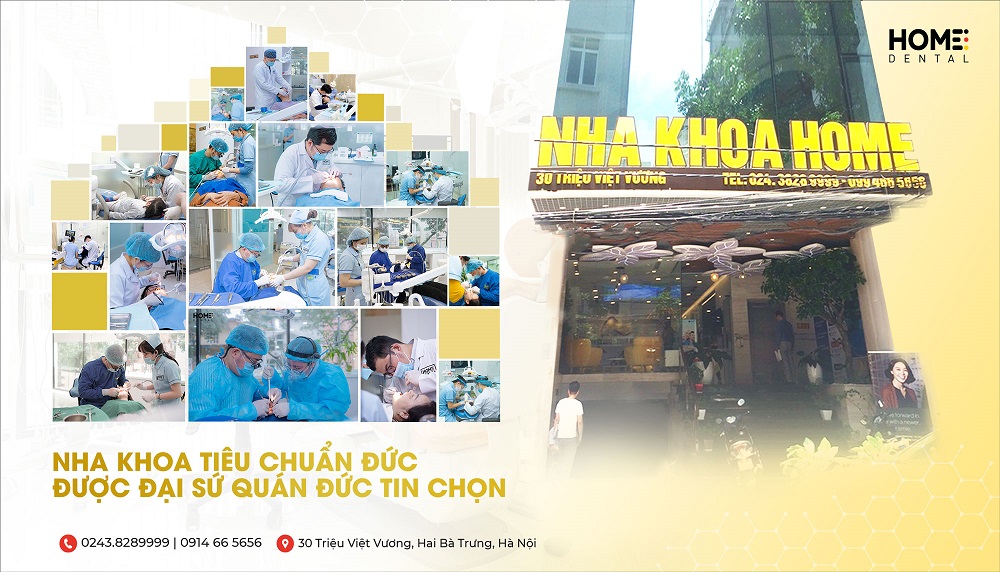 Home Dental Clinic offers a range of modern dental technologies:
New-generation braces.

Implant-based tooth

restoration led by Dr. Nguyen Anh Ngoc.

Advanced nano 5S porcelain veneers.

WhiteMax teeth whitening technology.

Modern tooth bonding and filling techniques.

Painless tooth extraction using state-of-the-art Piezotome technology.

Ultrasonic scaling with Cavitron BP.

Comprehensive root canal treatment with Reciproc Blue.
Why should you choose Home Dental Clinic?
Mr. Nguyen Anh Ngoc is a highly qualified individual with over 12 years of intensive training in the field of Implants in Germany. Furthermore, Master – Doctor Nguyen Anh Ngoc is one of the best dentists and top implant surgeons in Vietnam today. Currently, Dr. Ngoc is the Professional Director of Dentistry at Home Dental Clinic – a dentist specializing in the field of Implants.
Doctor Nguyen Anh Ngoc has participated in many advanced dental training courses in European countries. Together with many years of experience, Dr. Ngoc has collaborated with the team of doctors at Home Dental Clinic to establish a dental clinic. Not only is it equipped with advanced German equipment, but it also meets German standards in terms of human resources and treatment methods.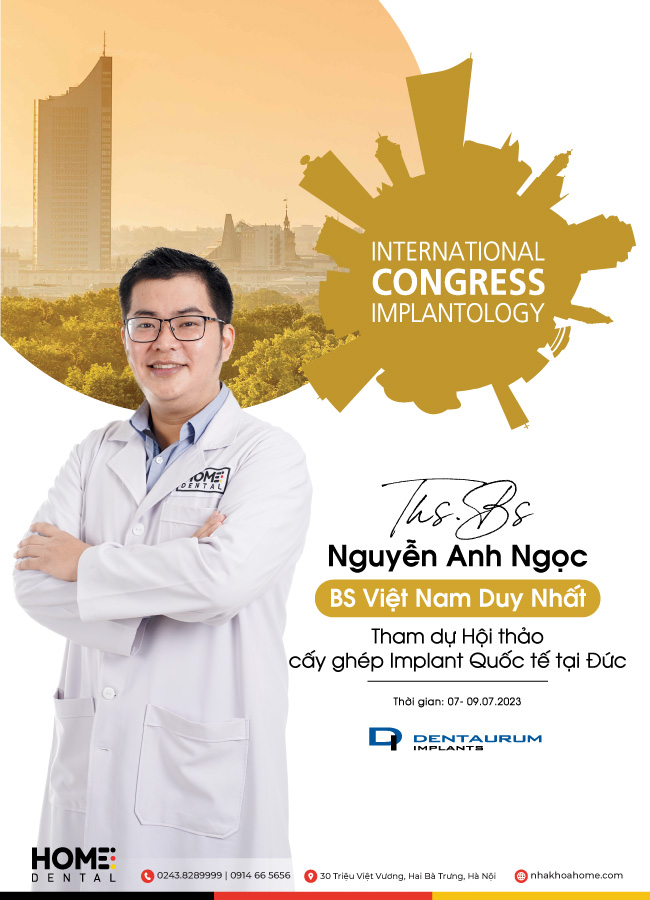 Degrees and certificates of Master – Doctor Nguyen Anh Ngoc:
    The valedictorian graduated with honors in dentistry at the University of Hamburg

    The winner is one of 13 typical Vietnamese in Germany by the Vietnamese Consulate General in Germany.

    Won the title of 1 in 10 best students in Germany in 2013

    Member of the Hamburg State Doctors' Association, in the state of Schleswig Holstein, the city of Hamburg.

    The doctor has taught about implant surgery to many doctors in Hanoi and Ho Chi Minh.

    He successfully brings satisfaction to tens of thousands of patients with implant treatment, surgery, and cosmetic dental care.

    All customers are satisfied when using Home Dental's services 
Home Dental Clinic always focuses on innovation and technology transfer to provide its customers with the best possible service. Every year, the dental clinic invests billions of Vietnamese dong to purchase and install the most advanced machines and equipment, such as smart dental chairs, centrifugal machines, scanning machines, and implant simulation software. These devices are directly imported from countries with developed technologies such as Germany, the UK, the US, and France,…
When choosing to have dental treatment at Home Dental Clinic, customers will be treated according to a closed and safe process. The dentists will examine and advise on the most suitable treatment method to help customers quickly own a beautiful set of teeth as desired.
Contact us: +84914665656
The Department of Dentistry at Military Hospital 108
Address: 1 Tran Hung Dao, Hai Ba Trung, Hanoi 
The Department of Dentistry at Military Hospital 108 is one of the professional and reputable dental clinics in Hanoi. The department specializes in providing diagnostic, treatment, and dental prosthesis services for civilians, military personnel, those participating in health insurance, and policy families. 
In addition to the strength in material facilities, the hospital also has a team of doctors and healthcare staff who are specialized and experienced. The doctors in the department always devote themselves and are dedicated during the examination, consultation, and treatment process. Customers who come for dental treatment can share their wishes and desires to receive the most suitable dental restoration technique advice from the doctors. 
Viet Smile Dental Clinic
Address 1: 229 Giap Nhat, Thanh Xuan, Hanoi

Address 2: 70 Tran Thai Tong, Cau Giay, Hanoi
In Hanoi, Viet Smile Dental Clinic has a clinic in Cau Giay district and a clinic in Thanh Xuan district. In addition to the two branches in Hanoi, Viet Smile Dental Clinic also has branches in Ho Chi Minh City and Lao Cai. The dental clinic is trusted and chosen by many customers for its services and good feedback.
Viet Smile Dental Clinic is rated as one of the leading dental clinics for oral health examination and treatment in Hanoi. With many years of experience, especially with a team of good specialized doctors, Viet Smile has become a reliable address that people in the city trust to choose whenever they need dental services.
Especially when coming here, customers will be examined and consulted by specialized doctors and treated with detailed treatment plans to achieve the best results. All examination and treatment plans as well as costs will be clearly and specifically informed before customers agree to receive treatment at Viet Smile Dental Clinic.
Some prominent specialties at Viet Smile Dental Clinic include:
General Dentistry

Cosmetic dentistry

Minor surgery

Orthodontics
Always striving and changing to provide safe and professional dental services, Viet Smile Dental Clinic has been, is, and will be one of the leading dental addresses in Hanoi, serving all needs for oral care for all generations of customers from simple to complex.
In conclusion, choosing the right type of braces for your needs requires careful consideration of the differences between child and adult braces. With the tips provided in this article, you should be able to make an informed decision on the best type of braces for you or your child. Don't forget to find the best dentist and dental clinic in Hanoi to ensure that you receive the highest quality of dental care.