In the content of this article, Home Dental would like to give information about good dental examination and treatment doctors in Hanoi. For readers' convenience to follow and choose when to perform the examination.
When having abnormal dental problems, patients should not subjectively buy medicine to treat at home. So it could be a warning sign of a dangerous disease that you may have. Therefore, the advice of experts is to visit a dentist to quickly detect the cause of the disease and have appropriate treatment. To make it easier for patients to plan a visit, within the scope of this article, we would like to introduce you to information about good doctors in treating oral diseases in Hanoi.
Doctor Nguyen Anh Ngoc is a highly qualified person, with more than 12 years of intensive training in the field of implants in Germany and has a lot of practical experience in the field of dentistry. Currently, Dr. Ngoc is the Chief Executive Officer of Home Dental Dental – a dentist specializing in the field of dentistry in general and the field of implants in particular.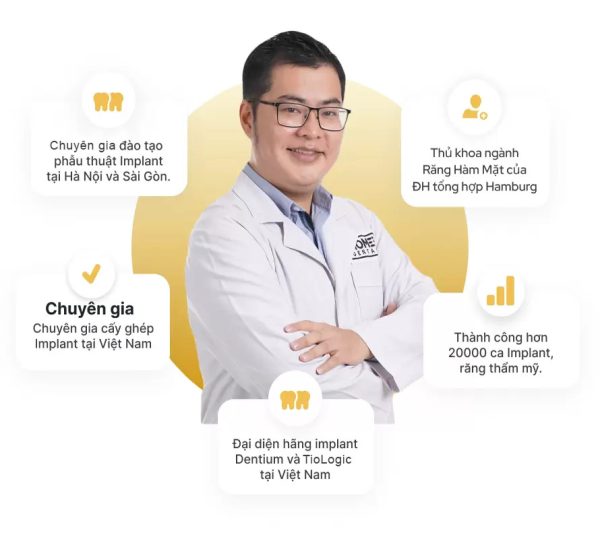 Master's education and certificate – Dr. Nguyen Anh Ngoc
Doctor Nguyen Anh Ngoc has participated in many advanced dental training courses in European countries. Along with many years of experience, Dr. Ngoc has combined with a team of doctors and dental clinics in the country to build a dental clinic. Not only German standards for equipment and machinery but also German standards for people and processing methods.
*Degrees and certificates of Master – Doctor Nguyen Anh Ngoc:
   

The valedictorian graduated with honors in dentistry at the University of Hamburg

   

The winner is one of 13 typical Vietnamese in Germany by the Vietnamese Consulate General in Germany.

   

Won the title of 1 in 10 best students in Germany in 2013

   

Member of the Hamburg State Doctors' Association, in the state of Schleswig Holstein, the city of Hamburg.

   

The doctor has taught about implant surgery to many doctors in Hanoi and Ho Chi Minh.

   

He is a successful person in bringing satisfaction to tens of thousands of patients with implant treatment, surgery, and cosmetic dental care.

   

All customers are satisfied when using Home Dental's services
Master – Dr. Anh Ngoc – always dedicated to treating each patient
In particular, the health factor of the patient is always put on the top by Master – Doctor Nguyen Anh, he values ​​the mind of the physician, not seeking commercial profit. All patients who come to visit and perform dental implantation at Home Dental before doing so will have 3D CT scans of the maxillofacial area, test and check their health status and background. the patient's underlying medical condition.
Master – Doctor Nguyen Anh Ngoc will directly apply dental implant technology according to German standards, with a system of modern machinery and equipment imported directly from the US and Europe such as CT Cone Beam system "USA" multi-dimensional, surgical machinery, high-grade implant materials genuine imported from the US, Germany, Switzerland, 3D CAD/CAM technology. At the same time, there is a system of absolutely sterile treatment rooms with ultraviolet lights according to the standards of the Ministry of Health. It allows dental treatment to take place with a success rate of up to 100%. In addition, the implant procedure ensures "Safety – Painless – Aesthetic" and does not leave any kind of complications after implementation. Combined with advanced anesthetic technology to help customers feel comfortable and painless when visiting teeth.