What is Planting Incisors and How does it Benefit Dental Patients?
Planting incisors, also known as dental implantation, is a revolutionary tooth replacement technique. When patients lose permanent teeth due to injury, decay, or gum disease, dental implants provide an attractive and long-lasting solution.
During the procedure, a titanium screw is surgically placed into the jawbone to mimic the root of the natural tooth. Over time, the jawbone grows around the implant, anchoring it securely in place, and a customized crown is then attached to the implant.
Dental implants offer numerous benefits over dental bridges and dentures. They look and function like natural teeth, preventing jawbone loss and allowing for a healthy bite. With proper care, dental implants can last a lifetime. 
Treatment timelines vary depending on the condition of the jawbone and gums, but most patients complete the entire process within 6-8 months. While dental implants have a higher upfront cost than other tooth replacement options, they provide unmatched durability, stability, and oral health benefits. For patients who want a permanent solution to missing teeth, dental implants are an investment in both appearance and long-term oral health.
The Steps Involved in Planting Incisors for a Permanent Replacement
The first step in planting incisors is a consultation with a dental professional. During this consultation, the best dentist near me will evaluate your oral health and determine if you are a suitable candidate for dental implantation. They will also discuss the procedure with you, highlighting any risks and benefits. Once you have been cleared for the procedure, the teeth doctor will begin the implantation process. 
The second step involves the surgical placement of the titanium post into the jawbone. The dentist will make an incision in the gum tissue to expose the bone, then drill a hole into the bone where the post will be placed. The post is then screwed into the bone, and the gum tissue is stitched back up. The post is left to integrate with the bone tissue for several months, allowing it to grow and become a stable foundation for tooth replacement. 
The next step is to attach an abutment to the titanium post once the post has integrated fully with the jawbone. The abutment is a small connector piece that protrudes from the gum line and provides a secure attachment for the prosthetic tooth. After the abutment is attached, the dentist will take an impression of the area, which will be used to create a custom-made prosthetic tooth that matches the color, size, and shape of your natural teeth. 
Finally, the prosthetic tooth is attached to the abutment, completing the process of planting incisors. The result is a natural-looking and functional replacement for your lost teeth that can last for many years, provided that you maintain good oral hygiene and regularly visit your dentist for check-ups. Dental implants in Hanoi have a high success rate, and with proper care, they can last a lifetime.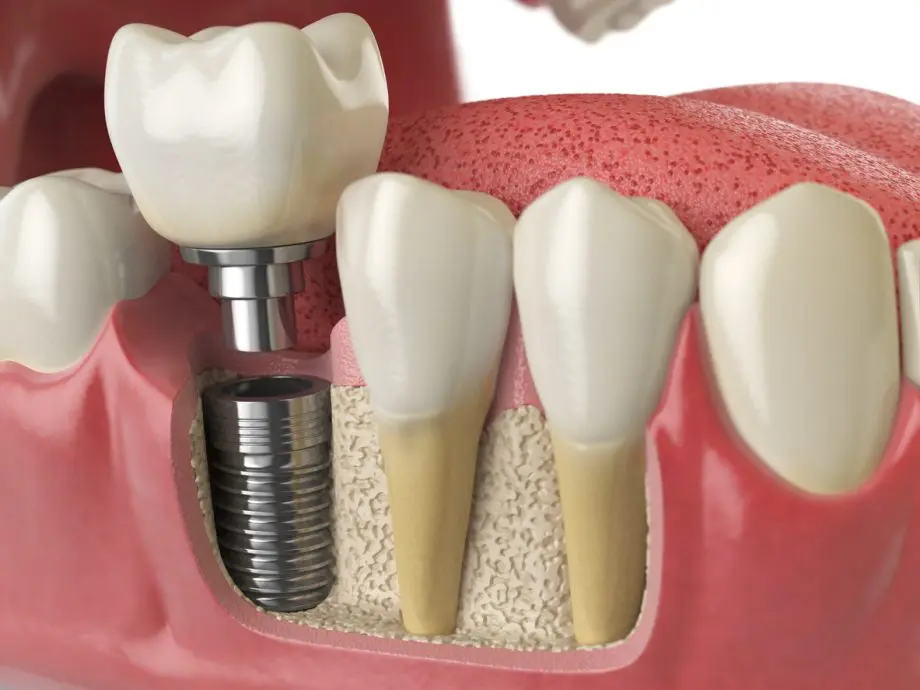 How Long Do Planting Incisors Take and What Potential Complications Can Arise?
Tooth operations, especially those involving dental implants like incisors, require careful planning and execution by a skilled dentist. The healing process after planting incisors can take several months as the jawbone fuses with the titanium implant to form a strong base for the artificial tooth. 
On average, the initial procedure to place an incisor implant takes around 1 to 2 hours. Multiple checkups and X-rays may be required over the following 3 to 6 months as the implant fuses with the jawbone through a process called osseointegration. 
The dental implant near me recovery time frame can vary from person to person, but most patients recover fully after 6 to 12 months. During the initial weeks, patients can expect some minor pain, swelling, and discomfort which can be managed with over-the-counter medications. The dentist will provide detailed postoperative care instructions to minimize the risk of infection and ensure optimal healing. It is important to eat soft foods, apply ice packs, and avoid smoking or drinking during recovery. 
While tooth implant operations are often successful, there are some potential complications to be aware of. Infection, nerve damage, or implant rejection is possible if proper sterilization and care protocols are not followed. An improper bite or excessive load on the implant can also cause damage over time. Some patients may experience a painful Dry Socket when a blood clot gets dislodged from the site exposing bone and nerves. Allergic reactions to anesthesia or other medications may also pose problems during and after surgery. 
When done by a skilled dentist using the appropriate care and technology, incisor implants provide an excellent tooth replacement option despite some potential complications that may arise during or after surgery that requires prompt treatment. 
What Pain & Discomfort can be Expected After Having an Incisor Implanted?
Having a dental implant to replace a missing incisor tooth is an intricate surgical procedure that ultimately restores both the appearance and functionality of your smile. However, as with any invasive operation, some discomfort and pain are normal during the post-operative healing process. On average, the initial recovery period after incisor implantation lasts around 5 to 7 days.
During the first couple of days after surgery, as the anesthesia wears off and the implant site heals, you can expect discomfort, swelling, and minor bleeding. The implanted area will feel sensitive, tender, and possibly throb or ache at times. To help control pain, over-the-counter or prescribed medication should be taken as directed. Applying an ice pack to your cheek, avoiding hot beverages, and eating soft foods may also provide relief.
After the initial few days, swelling and discomfort should gradually subside, though the healing process can take between two to four months to fully complete. The implanted incisor will feel stable and natural, but some minor sensitivity or twinges in the gum tissue may persist for several weeks. For most patients, any distress or discomfort following an implant procedure is tolerable and can be effectively managed. While individual experiences vary, with time and proper aftercare, dental implant recovery is typically an uncomplicated process resulting in a beautiful and permanent solution for a missing front tooth.
Thank you for reading our guide to planting incisors. If you have any questions or concerns, don't hesitate to contact your dentist for advice. Remember, proper dental care can help ensure the success and longevity of your dental implants.
WHY SHOULD YOU CHOOSE TO GET IMPLANTS AT HOME DENTAL CLINIC – 30 MILLION VIET VUONG?
Our team of highly skilled professionals, with extensive experience in implant dentistry, ensures that you get a safe and successful implant procedure with a success rate of up to 100%.

Our modern equipment and machinery, imported directly from Germany, meet the highest standards and allow for accurate examination and assessment of the structure and condition of the jawbone for implant placement.

We use high-quality implant materials imported from Germany that are sterile and free from contamination, ensuring the best possible outcome for our patients. Our implant prices in Hanoi are also very competitive.

Dr. Anh Ngoc, who has 15 years of experience in implant dentistry and graduated from Germany, is the leading expert in implant dentistry in Vietnam.

Our dental clinic is the only one chosen and recognized by the German embassy in Vietnam for meeting their standards.
ghly trained and experienced doctors has completed thousands of implant procedures with a 100% success rate. We always provide our patients with the best implant materials to ensure a quick and long-lasting recovery. We are confident that we are the best implant dental clinic in Hanoi.