Typically, dentists recommend orthodontic treatment before getting dental implants. Aligning the teeth beforehand helps prevent them from becoming crooked or growing in the wrong position, allowing them to shift into the correct position. This leads to a simpler, more effective, and less time-consuming dental implant procedure.
What is Dental Implant?
Dental implantation is a method used to restore missing teeth by placing a titanium implant post into the position of the missing tooth. Once the implant post integrates with the jawbone, the dentist will place a ceramic crown on top to ensure it does not slip or move. After a period of time, the implant will become fully functional and provide comparable chewing ability and aesthetic appearance to a natural tooth.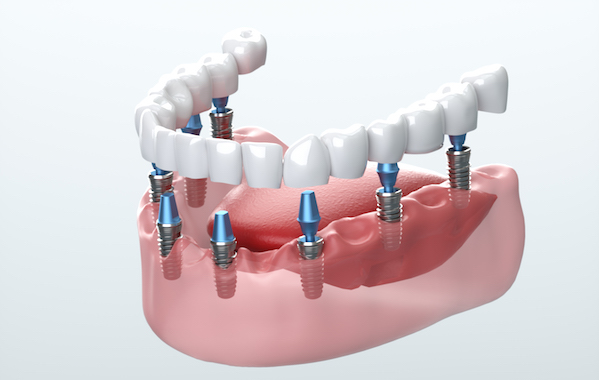 What are braces?
Orthodontic treatment, or braces, is a technique used to correct dental issues such as overbite, underbite, crooked teeth, and misaligned teeth. This method involves using a system of wires and brackets or clear aligners (such as Invisalign). After orthodontic treatment, the bite will be properly aligned, and teeth will be straightened, making chewing easier and enhancing facial aesthetics.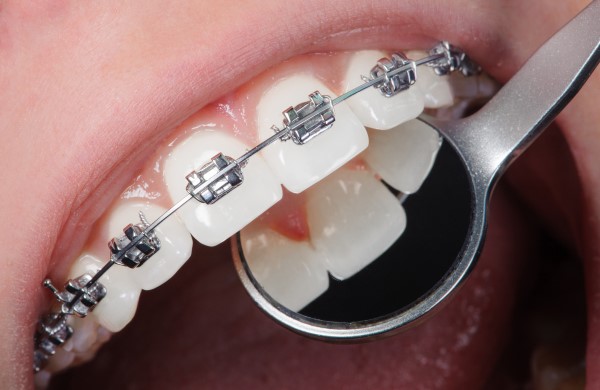 Dental Implant with braces?
The question of whether to get braces or dental implants first is a common concern for many patients. Typically, dentists recommend orthodontic treatment first to align the teeth in their proper positions and adjust any gaps before proceeding with dental implant placement.
In cases where the adjacent teeth are not significantly misaligned, it may be possible to proceed with dental implant placement first and then follow up with braces. However, the specific treatment approach will vary depending on each individual case, and the dental professional will recommend the most appropriate plan of action.
Braces before dental Implant
If you want to have both a dental implant and orthodontic treatment, the typical approach is to first undergo orthodontic treatment before placing the dental implant. According to dentists, the natural teeth will be held in place by the orthodontic wires and brackets, making it easy to move them around using the braces. On the other hand, dental implants are anchored firmly into the jawbone using titanium posts, making it difficult to move them around. Therefore, it is best to undergo orthodontic treatment before placing dental implants.
In many cases, dentists will require orthodontic treatment before placing dental implants to ensure safety and accuracy. For example, if the patient has crooked, overlapping, or misaligned teeth, orthodontic treatment is necessary to create enough space for new teeth and move adjacent teeth into the correct position.
Braces after dental Implant
In fact, many people can still undergo orthodontic treatment after getting dental implants. Once the implant is fixed in the correct position, dentists can move the surrounding teeth using either fixed braces or clear aligners. There are several situations where orthodontic treatment can be performed after implant placement:
If the orthodontic treatment does not cause severe damage or interfere with the teeth around the implant, or if the braces are placed opposite the location of the implanted post.

If the implant serves as a reference point that can help with tooth positioning.

If only one or a few teeth are replaced with implants, the dentist can adjust the porcelain crown on each implant to move the teeth to the desired position. However, there are cases where orthodontic treatment cannot be performed after implant placement, such as in full arch implant cases. Nevertheless, full arch implant treatment can address issues such as crowding, spacing, and misaligned teeth comprehensively.
Note when braces after Implant implant
The process of orthodontic treatment after dental implant surgery is quite sensitive. During this time, the teeth are subject to a lot of pressure and can be easily damaged, so it's important for patients to keep a few things in mind.
Typically, dentists will recommend orthodontic treatment before undergoing dental implant surgery. Straightening the teeth before the surgery helps prevent them from becoming misaligned or growing haphazardly, making it easier to perform the implantation procedure, resulting in a simpler, more effective, and less time-consuming process.
Dental Implant care after braces
When undergoing dental implant surgery, whether undergoing orthodontic treatment before or after, it is crucial to take care of your teeth to ensure the longevity and functionality of the implant. Here are some important tips to keep your dental implant healthy:
Brush your teeth/orthodontic appliance twice a day with a soft-bristled brush, and use fluoride toothpaste for added effectiveness.

Use mouthwash or a water flosser to clean between teeth and remove any food debris or plaque buildup.

Avoid alcohol and smoking after implant surgery, and allow time for the implant to stabilize.

Attend regular dental check-ups and follow your dentist's orthodontic treatment plan for optimal results.
Information about Home Dental – Implant Clinic
To learn more about the Implant method for restoring lost teeth due to calcium deficiency, please contact Home Dental – Implant Clinic: the first dental clinic in Vietnam specializing in Implant dentistry.