What is Dental Implant?
Dental Implant is a procedure in which Implant posts are used to replace patients' missing or damaged teeth. This is a superior method in terms of restorative dentistry. After using this method, patients will have perfect teeth and get back their confident smile and convenience in everyday life.
When is it necessary to get Dental Implant?
Dental Implant is considered one of the most advanced dental and orthodontic methods today with many outstanding advantages. Patients should use a Dental Implant service if:
Lose one tooth or many teeth due to accident, age or due to dental diseases such as tooth decay, periodontitis…

People who do not want to grind their adjacent teeth to make porcelain bridges.

People who have broken implanted dentures.

All teeth of the upper or lower jaw are lost.

The teeth are decayed or broken.
According to specialists, it is recommended that patients get a Dental Implant from 1 to 6 months after tooth loss. If the tooth has been lost for too long, it will lead to jawbone loss. 
What are the steps of the Dental Implant procedure?
The dental Implant procedure is complicated. Therefore, to successfully perform this procedure, the dentists need to be well-trained and have profound experience, as well as strictly follow the steps below:
Step 1: Assessment: the dentists will evaluate your oral health in general to decide the suitable Implant method for you, or whether you should get a Dental Implant or not.

Step 2: Implant post placement: the dentists perform surgery to put the Implant post into your jaw.

Step 3: Jawbone and Implant integration

Step 4: Abutment surgery: you need to undergo another surgery so that the final Abutment can be placed.

Step 5: Crown placement: when your gums are already healed, the dentists will add the crown and finish the Dental Implant procedure.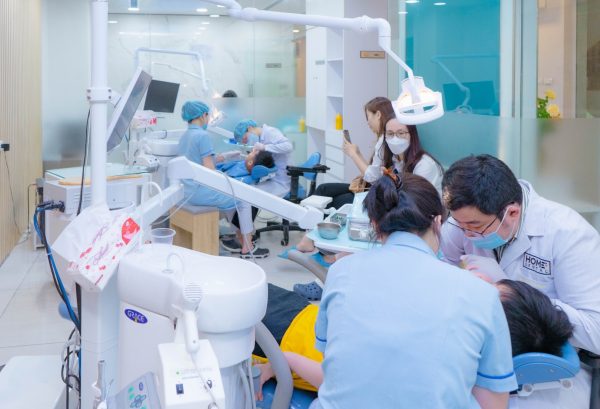 Top Dental Implant clinics in Hanoi
Home Dental – A prestigious Dental Implant address in Hanoi
Experienced medical team
It can be said that the dentist's expertise is the most important factor that decides the success of a Dental Implant surgery. If the dentist is inexperienced, patients will be at risk of having their jawbone or even nerves negatively affected. On the contrary, a reliable dentist can increase the success rate of the surgery, and also help the patients have a good experience. 
At Home Dental, all dentists are well-trained at famous medical universities in Vietnam and around the world and have years of experience in dentistry. Dr. Nguyen Anh Ngoc, the professional director of Home Dental, was trained at the University of Hamburg, Germany, and has participated in many dental training courses in Europe. With his experiences, Dr. Ngoc together with the professional medical team of Home Dental has performed thousands of Dental Implant surgeries, bringing the patients absolute satisfaction. 
Modern equipment and technology
Home Dental is a leading clinic in applying new technology in dental treatment. This will guarantee the success rate of each surgery, as well as shorten the healing time.
At Home Dental, the equipment is directly imported from Germany, meeting the German dental standard. 
System of Implant machines and a separate Implant room.

The Cone beam 3D CT scanner system from Germany.
As Germany is famous for its medical services, including dental service, having modern equipment that meets German standards helps Home Dental to improve the patients' experience when using the dental services here.
High-quality Implant material
The Implant post's material is also an important factor in Dental Implant surgery. Home Dental uses high-quality Implant posts from famous brands such as Straumann Dental Implant, etiologic Implant, and Dentium USA. The posts are made from titanium, the best material for Dental Implant posts. This material allows the posts to have incredible resistance and easily integrate with the jawbone. As a result, the surgery can take place successfully without the Implant being rejected and the Implant teeth also have a life-long expectancy.
Standard aseptic technique
Dental Implant is a method that requires an aseptic environment. Just a small mistake in the aseptic technique can lead to inflammation, causing severe complications and affecting patients' health. At Home Dental, the aseptic technique is strictly followed to ensure the patients' safety. Home Dental commits an absolutely sterile environment thanks to a separate sterilization room with 3 standard aseptic steps and the Melag sterilization machine.
Patients' appreciation
With a team of experienced dentists, advanced equipment, and standard processes, Home Dental is appreciated by many people. Patients who have used the Dental Implant service at Home Dental definitely have their satisfaction fulfilled.  
Visit Home Dental at 30 Trieu Viet Vuong, Nguyen Du, Hai Ba Trung, Hanoi.
Hotline: 0914665656
Lac Viet Intech Dental System
At Lac Viet Intech, 100% of the doctors have degrees and professional certificates. They have spent time training in different countries with a modern dental background. Coming to Lac Viet Intech Dental System, customers are provided with sufficient information by doctors about their oral health status, treatment regimen, and effective post-treatment support.
Not only that, Lac Viet Intech Dental System regularly cooperates with many leading experts in the world. On the basis of cooperation, Lac Viet aims to further improve in service, and treatment quality and update new treatment technology in the future.
Moreover, all facilities in the Lac Viet Intech Dental system are fully equipped with modern machinery and technology: ConeBeam CT X-ray machine, iTero Element 5D dental impression scanner, etc.
The combination of good doctors and advanced equipment and technology allows Lac Viet Intech to pursue the goal: of "Bringing the world's leading Implant and Braces – orthodontic technologies to Vietnam".
Up to now, Lac Viet Intech Dental Clinic has successfully carried out Dental Implants for more than 60,000 customers, bringing bright smiles to all customers.
Lac Viet has already have 3 branches in Hanoi: 
168 Lang Street, Dong Da, Hanoi.

27 Nguyen Van Huyen, Cau Giay, Hanoi.

426 Minh Khai, Hai Ba Trung, Hanoi.
Viet Uc Dental Clinic
At Viet Australia Dental Clinic, there is a full range of dental care services such as extraction, orthodontics, dentures, tartar removal, teeth whitening, fillings, root canal treatment, minor surgery, examination, and thorough X-ray, Dental Implant, cosmetic porcelain teeth, etc. The manipulations during the treatment are done very carefully so as not to cause any pain to the patient.
Viet Uc has a system of clinics designed and built specifically and reasonably for dental examination and treatment, with the latest updated dental treatment methods. The treatment is of high quality and guaranteed to bring preferred results to customers.
The team of Doctors at Viet Uc Dental Clinic are formally trained and have many years of experience. They are professional and dedicated and are currently reputable lecturers in Vietnam about Dental Implants.
Visit Viet Uc at one of these addresses:
630 Truong Chinh, Dong Da, Hanoi

 12 Dien Bien Phu, Ba Dinh, Hanoi
Pham Duong Dental
Pham Duong Dental Clinic is one of the oldest dental clinics in Hanoi. After 30 years of operation, the clinic has become one of the prestigious addresses chosen by many people for dental care for oral health for both adults and children.
The dentist is equipped with many modern machinery and equipment for dental examination and treatment. Moreover, the dental clinic is the right place for parents who want to take their children to be examined thanks to the following advantages: experienced doctors in examining children, the clinic has a play area, and parents can monitor their children throughout the treatment process, etc.
Address: 4th floor, 52 Ba Trieu, Hang Bai, Hoan Kiem, Hanoi.
Parkway Dental
Parkway Dental is the address trusted and chosen by a large number of customers. Understanding the needs of customers, Parkway Dental always chooses the most optimal method, it stands out with advantages such as:
A team of qualified and professional doctors

Prestigious and professional quality, dedicated and thoughtful service

Modern facilities, advanced equipment system
Parkway Dental is proud to be a clinic system according to Singapore standards, which is among the countries considered to own the most effective and successful medical system in the world. Parkway Dental Clinic constantly updates and improves its equipment according to the most modern technology. 100% of the equipment at Parkway Dental Clinic is strictly tested by the Ministry of Health before being put into operation. Parkway Dental is committed to using only the most advanced materials and equipment to treat customers. Reasonable prices and warranty commitment policy bring peace of mind to customers when using the service here.
Address: 
Parkway Hue Street: 328 Hue Street, Hai Ba Trung, Hanoi

Parkway Trung Hoa: 4th Floor, Building 29T1, Hoang Dao Thuy, Trung Hoa, Cau Giay, Hanoi
Dental Implant has become a favored dental method for restoring teeth and there are more and more dental clinics performing this method nowadays. If you are confused among so many options, the list above is some recommendations for you. If you are interested in Dental Implants, keep in mind that choosing a reputable and highly qualified dental clinic is an important thing to do.