Invisalign Clear Aligners are one of the most modern orthodontic methods today. With outstanding advantages and significantly improved results, this method is increasingly popular in Vietnam. However, this is a dental method that requires complicated techniques, so choosing a reputable address is the first thing to do.
What are Invisalign Clear Aligners?
Invisalign Clear Aligners are a type of aligners used in orthodontic treatment. Unlike metal braces, Invisalign braces do not use brackets or mental wires to fix patients' teeth. As the aligners are clear, they have much higher aesthetics than metal braces.
Just like other types of braces, Invisalign Clear Aligners can be used to straighten teeth in different cases such as:
Overbite: The position where upper teeth go over the lower teeth

Underbite: The position where the lower teeth go over the upper teeth

Gap teeth: There are gaps between two teeth

Open bite: The position where the upper teeth and the lower teeth don't touch each other when the mouth is closed

Crowded teeth: Teeth that are not aligned correctly due to lack of space

etc.
How do Invisalign Clear Aligners work?
As mentioned above, Invisalign Clear Aligners do not use brackets or metal wires. Meanwhile, brackets and metal wires are what enable braces to straighten patients' misaligned teeth. So how can Invisalign fix patients' teeth? 
Metal braces use tractive forces to drag teeth in a certain direction so that misaligned teeth can be straightened. Brackets and metal wires are used to create such forces. 
However, Invisalign Clear Aligners work a bit differently. Invisalign uses aligner technology. Therefore, instead of brackets and wires, Invisalign uses thin and transparent plastic shells to move teeth. These plastic shells put pressure on your teeth, then your tooth roots and jawbone. The pressure created by Invisalign is rather light and gentle and will move your teeth gradually. As a result, treatment with Invisalign Aligners is comfortable and less painful but still effective.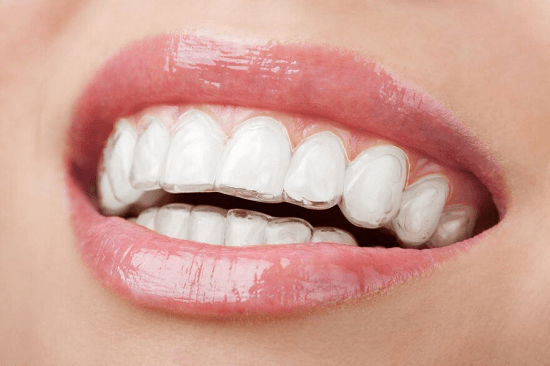 Advantages of using Invisalign Clear Aligners
Have high aesthetics
Invisalign can fix misaligned teeth to bring beautiful smiles to patients. Besides, as the aligner is transparent, it is almost invisible that patients are wearing Invisalign Aligners.  Therefore, Invisalign Aligners have the optimal aesthetic effect among straightening teeth methods.
Convenient
Unlike metal braces, Invisalign Aligners are not attached to the jawbone. They can easily be removed. This means patients can remove the aligners when cleaning their teeth while eating. Therefore, Invisalign Aligners are really convenient. However, it is recommended that patients wear Invisalign Aligners 20 to 22 hours a day.
Boost the chewing function
Misaligned teeth have negative effects on chewing function. Patients with this condition may have some difficulties in eating and chewing food. Straightening teeth with Invisalign will move the teeth to their right position, maximizing the jaw's chewing function.
Reduce pressure on the jaw
In many cases of misaligned teeth such as overbite or underbite, the jaw is put under pressure for a long time, making it difficult to chew food. Additionally, if the bite is too deep, you can bite into the inner tooth tissue and possibly damage the jawbone. Luckily, Invisalign can effectively solve this problem. 
Guarantee safety
Invisalign Aligners treatment is such a safe orthodontic method because it does not affect the structure of the teeth or jawbone. The treatment process will cause no pain or swelling, thus it is completely safe.
Maintain health
Misaligned teeth can lead to many dental problems such as tooth decay, periodontal disease, gingivitis, etc. Moreover, the discomfort caused by dental problems will affect your physical and mental health in general. 
When your teeth are straightened and aligned, oral hygiene becomes easier and more convenient. This will protect your teeth from many dental diseases, keeping you healthy.
Invisalign Clear Aligners are becoming more and more popular due to their fanatic benefits and are trustfully used by many customers.  It is said that Invisalign Aligners technology is such a breakthrough development in orthodontic treatment.
Criteria for a Prestigious Invisalign Clear Aligners address
Invisalign Aligners treatment is a rather complicated orthodontic method. There are many factors that can affect the result of the treatment. Thus, patients need to be careful when choosing where they get Invisalign Aligners. To ensure the success of the treatment, please consider the criteria below for a prestigious Invisalign Clear Aligners address:
Experienced dentists

Modern equipment

Professional treatment process

Reasonable price
Top 5 prestigious Invisalign Clear Aligners addresses in Hanoi
Home Dental Clinic
Though Invisalign Clear Aligners are invisible, the results are always visible with many outstanding advantages. Coming to Home Dental, customers can have the chance to use a high-quality Invisalign Clear Aligners service. 
Home Dental is proudly the first dental clinic in Hanoi to meet German standards and to be recognized by the German Embassy.  More importantly, Home Dental has gained customers' trust and become one of the top dental clinics in Hanoi. This is because Home Dental always prioritizes quality to bring customers the best treatment. 
At Home Dental, there is a wide range of dental treatment services such as Dental Implants, Braces, tooth extraction, Invisalign Clear Aligners, etc. Among them, Invisalign Clear Aligners treatment is a noticeable service. 
Here are some reasons why patients should choose to get Invisalign Clear Aligners at Home Dental:
Home Dental has a team of highly skilled dentists
Invisalign Clear Aligners treatment is complicated and needs to be performed by experienced dentists. Otherwise, patients' safety and the result of the treatment will not be guaranteed. 
Home Dental has a team of highly skilled dentists with years of experience. Patients will be treated with a professional process and dedicated care. 
Home Dental has a quality and advanced equipment system
The equipment system at Home Dental is imported from Germany so it is always updated and advanced. With this modern equipment system, the  Invisalign Aligners are manufactured precisely to fit customer's teeth and the treatment process is also fast and safe.
Invisalign Clear Aligners treatment at Home Dental is at a reasonable cost 
The price for Invisalign Clear Aligners treatment is really economically and financially friendly. However, the price of the treatment does not reflect the quality of it. Despite the low price, Invisalign Clear Aligners treatment at Home Dental is a high-quality treatment that has satisfied many customers. 
Address: 30 Trieu Viet Vuong, Nguyen Du, Hai Ba Trung, Ha Noi.
Hotline: 024 382 899 99 – 091 466 56 56
Thuy Anh Dental
The process of performing Invisalign braces at Thuy Anh Dental Clinic is carried out according to a strict process, in compliance with the standards of the Ministry of Health. The team of dentists works together as a team to ensure the progress of the work. In particular, each doctor here has many years of experience in the field of Orthodontics – Braces graduated from prestigious medical universities across the country and 100% studied abroad.
Address: 181, Yen Lang, Dong Da, Ha Noi.
Shinbi Dental
Shinbi Dental is one of the prestigious Invisalign Aligners clinics in Hanoi. With more than 12 years of experience in the field of dentistry, the clinic has successfully implemented cosmetic dentistry treatments for more than 10,000 customers.
At Shinbi Dental, there are many diverse dental services for customers to choose from. In particular, the Invisalign Clear Aligners service is the most modern generation of aligners technology today. Choosing this solution will help give you a confident smile with straight and comfortable teeth.
The process of performing Invisalign Aligners at Shinbi is carried out strictly, complying with aseptic regulations. The process is performed by dentists, leading experts and experienced experts.
Address: 33 Tran Quoc Toan, Hoan Kiem, Ha Noi.
Thuy Duc Dental
Thuy Duc Dental Clinic is famous for its Invisalign Clear Aligners because it has the first orthodontist in Vietnam. 
Coming to Thuy Duc Dental Clinic, you will experience an enthusiastic and dedicated service style and a luxurious and comfortable clinic space. To raise the level of high-class Invisalign orthodontic services, Thuy Duc Dental owns the world's most modern Invisalign equipment.
Address: 64 Vong Street, Phuong Mai, Dong Da, Ha Noi.
Win Smile International Cosmetic Dentistry
Win Smile International Cosmetic Dentistry is one of the leading professional and prestigious cosmetic dentistry addresses in Hanoi.
Coming to Win Smile, customers will receive enthusiastic, dedicated, and very gentle care during the orthodontic process. This is one of the things that proves the name and prestige of the North.
Here, there is a staff of doctors and leading dental experts in the industry who are skilled and experienced. The medical team of Win Smile have successfully performed many dental treatment and care cases from simple to complex. At the same time, the investment in equipment with modern machinery and advanced technology is also one of the factors that help customers feel more secure when choosing Win Smile.
Win Smile currently has 2 branches in Hanoi:
51B Le Duan, Dong Da, Ha Noi.

10/1194 Lang street, Dong Da, Ha Noi.
The article above has given some basic information about Invisalign Clear Aligners as well as reviews about the most prestigious Invisalign clinic in Ha Noi. We hope that this information is helpful for you to find a place to get your Invisalign Aligners.