There are more and more Dental Implant addresses springing up in Hanoi recently. However, instead of focusing on improving the quality of dental service and cultivating the dentists' professional skills, many clinics nowadays are using cheap prices to fish for more customers. In return, customers have to experience poor treatment and face dangerous risks. Thus, it is important to carefully choose a place to get Dental Implant. This article below will include the criteria you should know to choose Dental Implant address, as well as the best Implant places in Hanoi.
What is Dental Implant?
Dental Implant is a dental procedure involving using Implant roots to replace the missing teeth. The Implant method is becoming more and more popular among patients due to its outstanding advantages. However, this is a complicated method. Thus, to successfully perform the Dental Implant surgery, the dental facility needs a skilled and experienced medical team, advanced equipment, high quality Implant posts,etc.
When is it necessary to have a Dental Implant?
Dental implants can be performed on any missing teeth. Depending on the position, the time to perform is also different, but all have the ability to effectively restore teeth, ensure aesthetics and chewing function. 
The implant should be placed in the following cases:
Missing 1 tooth.

Damaged or severely decayed teeth need to be removed.

One or more missing teeth on the jaw.

The upper teeth are too weak, not strong enough to make a bridge.

Old molars have lost their function, and need to be restored to ensure chewing function.

The patient had dentures but was damaged.
Criteria to select the best Dental Implant address 
With dental facilities mushrooming nowadays, it's becoming harder for patients to find a trustworthy address. Moreover, as mentioned above, Dental Implant is a complicated procedure. Therefore, in order to choose the best dental facility for Dental Implant, patients should use these criteria below:
Highly trained dentists who have practical experiences in successfully performing Dental Implant surgery

Reasonable and clear prices 

Prestigious Implant brand with clear origin

Having adequate equipment and facility for Dental Implant

Strict and safe process of sterilization

Receiving good feedbacks from patients
Top 5 prestigious Dental Implant address in Hanoi
Home Dental Clinic
Home Dental is the first and only clinic  to meet the German standards in Hanoi. Germany is the leading country in the world in medical care services, especially in the field of dentistry. With the desire to provide patients with a high quality dental care service of German standards, Home Dental – led by Dr. Nguyen Anh Ngoc – has become a top dental clinic with a professional and experienced medical team. Through years, Home Dental has gained the trust of customers domestically and internationally. 
At Home Dental, customers have the chance to experience many high quality dental services, including Dental Implant service. As Dental Implant is a complicated procedure, dentists at the clinic always focus on carrying out this procedure strictly and sequentially according to a prescribed treatment regimen in order to bring customers the best result. 
The success rate of Dental Implant surgery Home Dental is 100%, thanks to the team of experienced and skilled dentists. The clinic also has advanced facilities and equipment imported directly from Germany and high quality Implant materials. Even so, the price for Implant service here is economical and competitive. Thus, Home Dental is recognized as a Germany standard clinic and is recommended by the German Embassy. 
Visit Home Dental at: 30 Trieu Viet Vuong street, Nguyen Du ward, Hai Ba Trung district, Hanoi.
Hotline: 0243 828 99 99 – 0914 665 656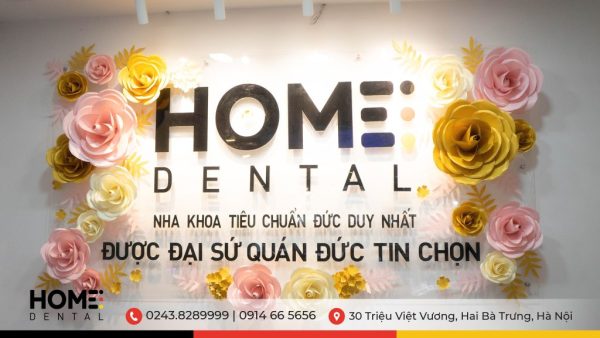 Dentomaxillofacial Central Hospital
The first Dental Implant surgery performed at the hospital was in 1996. Since then, Dentomaxillofacial Central Hospital has always been a trustworthy address for patients hoping to get Dental Implant. The hospital has a team of qualified doctors with many experiences in performing Implant surgeries.
It is known that the Dental Implant service here is chosen by many customers because it is not only safe but also has a reasonable price. In addition, all steps in the Implant procedure are performed carefully and directly by highly qualified doctors. The process ensures that the room is sterile and can limit the invasion of other neighboring areas.
Dentomaxillofacial Central Hospital also has a number of modern equipment used for dental treatment. Moreover, this hospital provides patients with different intensive treatment methods and a strict aseptic technique.
Address: 40B Trang Thi, Hoan Kiem, Hanoi.
108 Military Central Hospital
When it comes to Dental Implant, it is impossible not to mention the 108 Military Central Hospital. This is a leading hospital in applying modern dental technology. Its superiority is the use of Immediate Implant placement method to reduce the integration and healing time after the Implant surgery. 
The medical team is also highly appreciated and well-trained with professional qualifications, promising to bring you the best experience. Most of the services here not only pay attention to aesthetics but also ensure the maximum level of safety for customers. The Dental Implant is carried out quickly to limit the level of invasiveness and have the longest durability possible .
Address: 1 Tran Hung Dao street, Hai Ba Trung, Hanoi.
Viet Duc Dental Clinic
With 15 years of experience in dentistry, Viet Duc has become popular among customers. The clinic has skilled doctors, advanced equipment and technology, together with dedicated care service and warranty policy.
At Viet Duc, Investment in modern equipment and new technologies is always focused. This is the reason why this place quickly achieved great achievements, especially in the field of dental implants. 
Viet  Duc Dental has 3 branches in Hanoi:
84A Hai Ba Trung, Hoan Kiem, Hanoi.

29 Truong Yen, Chuong My, Hanoi.

29 Phu Doan, Hoan Kiem, Hanoi.
Viet Phap International Dental
Viet Phap Dental was founded in 2005. In nearly 2 decades, Viet Phap has succeeded in the mission of bringing the best dental service to customers and is regarded as one of the prestigious Dental Implant addresses in Hanoi.
Come to Viet Phap at one of these addresses:
24 Tran Duy Hung, Cau Giay, Hanoi

6 Thai Ha, Ha Dong, Hanoi.

29 Nguyen Du, Hai Ba Trung, Hanoi.

69 Tran Dang Ninh, Cau Giay, Hanoi.
Things to pay attention to after Dental Implant
Proper diet 
This is a factor that directly affects oral health in general and the condition of the implant in particular. The wound can bleed for a long time, heal slowly and have a high risk of infection if you eat and drink improperly.
Suggestion for a proper diet after Implant:
Avoid using foods that are too hot, too cold, and foods that are dry and spicy.

It is recommended to use liquid, soft, cooled dishes with little spice to help the wound heal quickly.

When the wound has not completely healed, do not eat or chew directly on the implant area.

After restoring the porcelain crown on the Implant post, you should eat and chew evenly on both sides.

Especially note that after implantation, do not use alcohol for at least 2 or 3 months.

You can use yogurt and smoothies to reduce pressure on the Implant post if the tooth is painful and the wound has not healed completely. At the same time, drink plenty of water to prevent plaque formation and limit bad breath.
Oral hygiene
Poor oral hygiene, improper oral hygiene is the leading cause of dental diseases. Instructions for proper oral hygiene after implant placement:
Do not brush your teeth directly in the position where the implant has just been inserted.

Gargle with saline or mouthwash containing Chlorhexidine to prevent infection after Dental Implant.

Use dental floss to remove food between your teeth instead of using a bamboo toothpick.

Rinse your mouth to clean leftovers immediately after eating, and avoid food sticking to the Implant post, leading to infection and bad breath.
Periodic check-ups
Regular check-ups are very important, even though your Implant teeth are still developing smoothly and chewing very well. Periodic re-examination after every 6 months to clean the teeth, check the implant and adjust the bite, adjust the chewing force on the implant if necessary.
After implant placement, oral care is very important because this is one of the factors that determine the strength and health of the teeth, especially in the early days after surgery. Therefore, the care needs to be more focused, not done carelessly.
Reduce pain and swelling at home
Take pain relievers and anti-inflammatory medicines according to your doctor's instructions. Absolutely do not buy pain relievers on your own without the permission of the doctor.

To relieve pain, you can apply cold compress around the painful area for about 20 minutes on the first day after surgery. In the following days, you should switch to hot compress to reduce swelling and dissolve bruising.

Keep the body dehydrated by drinking enough water. Patients should also rest as much as possible for faster healing. Avoid vigorous exercise that can damage your teeth.

Do not smoke and drink alcohol because stimulants can affect and reduce the effectiveness of Dental Implant.
Above is the list of the most reputable addresses for Dental Implant in Hanoi. We hope that you will find the  appropriate dental facilities for your needs.