All on 4 is also known as implant-supported fixed dentures or full mouth restoration with implants. The doctor will use 4 special implants to hold an overdenture in place and its fixed prosthesis.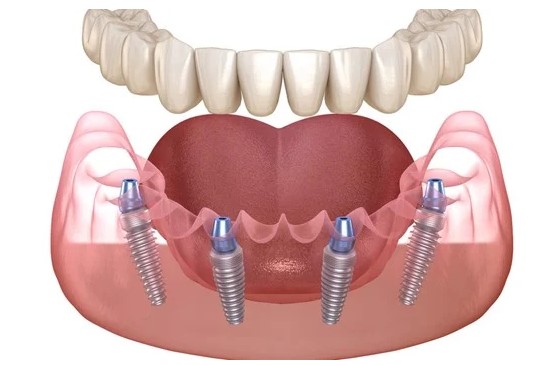 Who are the candidates for all 4 dental implants:
+ Those who have lost most/all of their teeth on the upper or bottom teeth
+ Those who are soon-to-be edentulous
Why all 4 dental implants are highly recommended?
+ All on 4 helps you to save a lot of money
All on 4 uses only 4 implants, instead of several individual implants for every missing tooth. Therefore it's cheaper.
+ All on 4 is grafts
The doctor can choose the right positions to place implants, so a bone graft is not required.
+ Immediate function
Patients can normally eat right after placement.
+ Secure placement deep in the jawbone, so implants will not shift or loosen
All on 4 step by step:
All on 4 will be completed within 5 visits:
+ 1st visit: Examination and consultation
At this step, you can discuss with your doctor your situation, your demands, and your medical history as well.
A 3D CT cone beam scan is required to measure bone density and help the doctor to know whether you are a candidate of all on 4 or not.
Once we decide that all on 4 is for you, the next appointment will be set up for implant placement.
+ 2nd visit: Implant placement
Based on the 3D scan on the first appointment, the doctor will know where to insert 4 implants into your jaw bone. A dental impression will be required for temporary overdenture.
+ 3rd visit: Temporary overdenture insert
After this appointment, you can smile confidently and normally eat with temporary overdenture.
+ 4th visit: Dental impression for permanent overdenture
3-4 months later, implants are completely integrated into your jawbone. You come back to our clinic for a dental impressions for permanent overdenture.
+ 5th visit: Permanent overdenture insert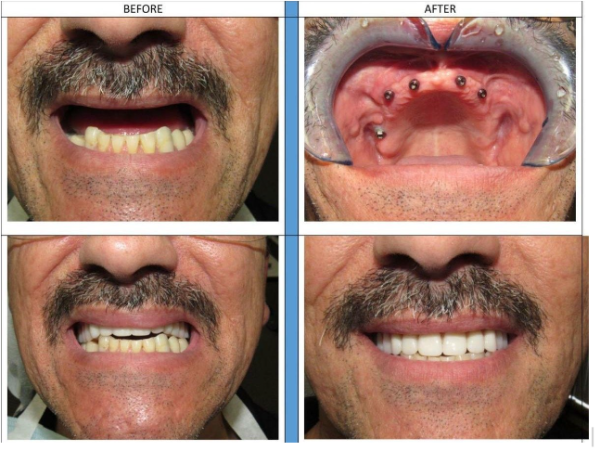 If you want to find a decent dental clinic to stop all your dental problems, please feel free to contact us at +84 914665656 or homedentalvn@gmail. It's our pleasure to support you.
Kindly fulfill the form below to make an appointment and please do not forget your email, then we can contact you for detailed consultation and pricing.