SPECIAL PROMOTION FOR INTERNATIONAL WOMEN DAY
HOME DENTAL PROUDLY INTRODUCE THE PROGRAM OF SPECIAL PROMOTION FOR WOMEN'S INTERNATIONAL WOMEN DAY MARCH 8TH.
How long has it been since you paid attention to your women? How long have you not seen them feel confident when they smile? March 8th, please give them love words and the most meaningful gift: confidence and happiness with beautiful teeth.
Home Dental - German standard dentistry will be a companion to bring love to the women we love.
Grateful to the International Women's Day March 8th, Home Dental Clinic would like to send to all female customers the following preferential program:
30% off for cosmetic tooth service + one complimentary bleaching for your loved ones + VIP card + special gift box from Home Dental (Total discount up to 53.000.000 VND).



Discount 10% for Implant service + free X-ray, porcelain teeth on implant + give VIP card and special gift box from Home (Total discount up to 6 million VND).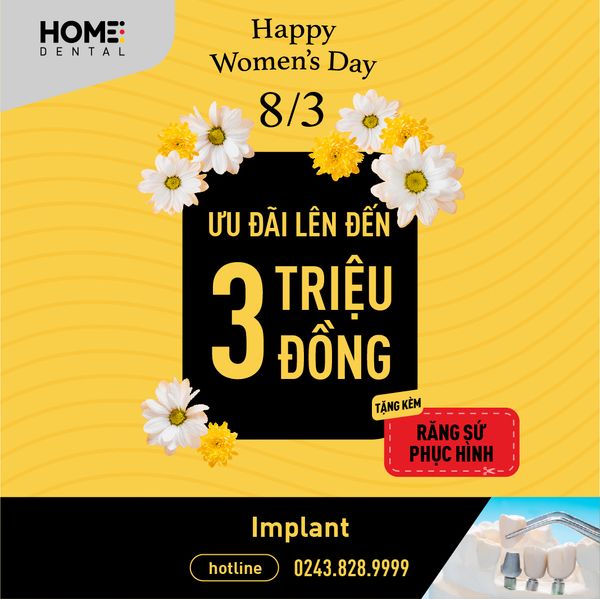 20% off Invisalign transparent braces, 10% off braces + VIP card and special gift box from Home.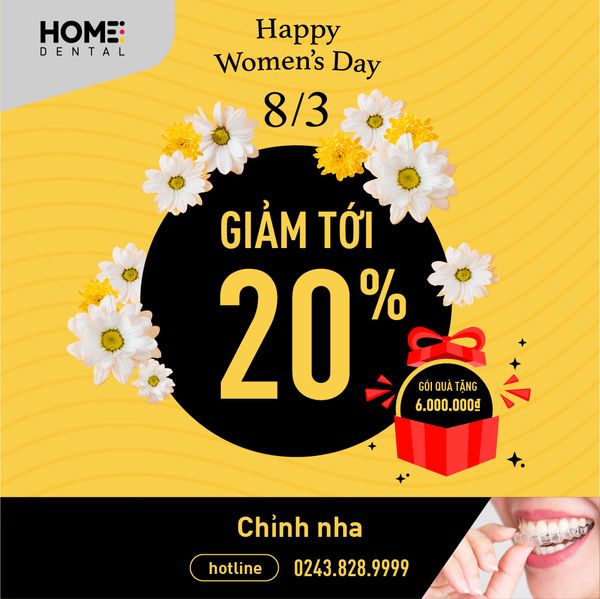 30% off teeth whitening service
20% discount on gingivitis treatment services
Discount 10% on other services
Application period: 1/3 - 8/3/2021

Let Home Dental spread love, for the health and confidence of the women we love. And Home believes that, with the German standard service quality chosen by the Embassy of Faith, this gift 8/3 will be even more complete.
Inbox now or contact hotline 0243.8289999 today.
---------------------------------------------
Home Dental - The only German standard dentistry chosen by the Embassy of Germany.
Address: 30 Trieu Viet Vuong, Hai Ba Trung, Hanoi
Website: http://nhakhoahome.com/
Direct guarantee and insurance support for more than 15 insurance companies
Hotline: 0243.8289999 / 0914 66 5656
Working time: 8:30 - 20:30 all days