Quality dental care for the whole family at Home Dental Clinic?
Quality dental care for the whole family at Home Dental Clinic?
Your family is expats in Hanoi and is looking for a good local dentist for dental care? Home Dental Clinic is your right choice. So why should you choose Home Dental for dental care for your whole family?
+ Quality dental care
Home Dental Clinic is the only German standard clinic in the town, verified by the Embassy of Germany in Vietnam. We've equipped our clinic with facilities imported directly from Germany.
All of our dentists are well trained in Germany and Vietnam. They are skilled, experienced and friendly. You and your family will get the most accurate efficient treatment at very reasonable price.
+ Friendly dental clinic
We designed our clinic with our patients in mind. The moment you walk in our front door, our team will make you feel comfortable, secure and well cared for. We treat you as that you are our family's member. That's why we name our clinic "Home Dental". We understand that many people feel anxious about visiting the dentist, but you can be assured that your comfort is our top priority.
+ One stop dental clinic with full range of dental services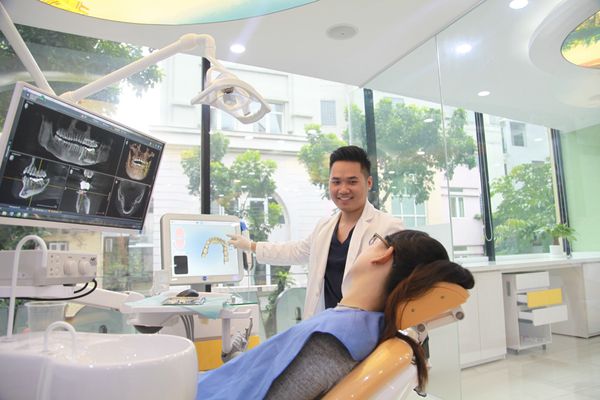 You hardly can find another dental clinic in Hanoi which has full range dental services and well equipped as Home Dental Clinic. We have full HD image diagnosis system, provided by Orthophos SL. Image diagnosis system is the first step of all dental treatment, specialy in root canal treatment, implant, tooth extraction and orthodontic treatment.
+ Affordable dentistry
Well, you will be surprised when take a look at our price list as it couldn't be more reasonable to be compared with the quality we offer. You will get FREE examination and consultation. Teeth cleaning or a tooth-colored filling is just 200.000VND (~$9). Baby tooth extraction for your kids is just 50.000VND (~$2).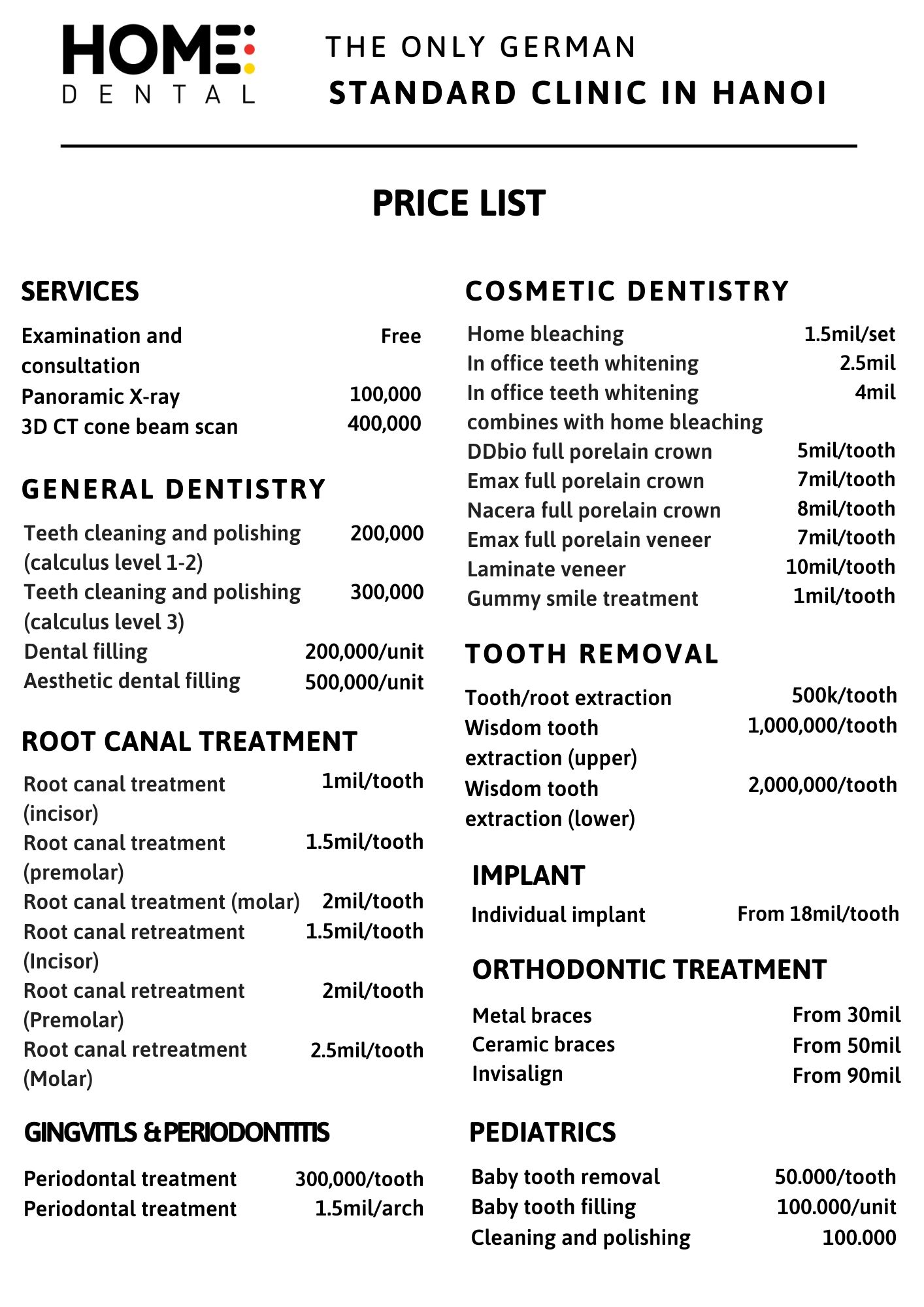 + Kids love Home Dental Clinic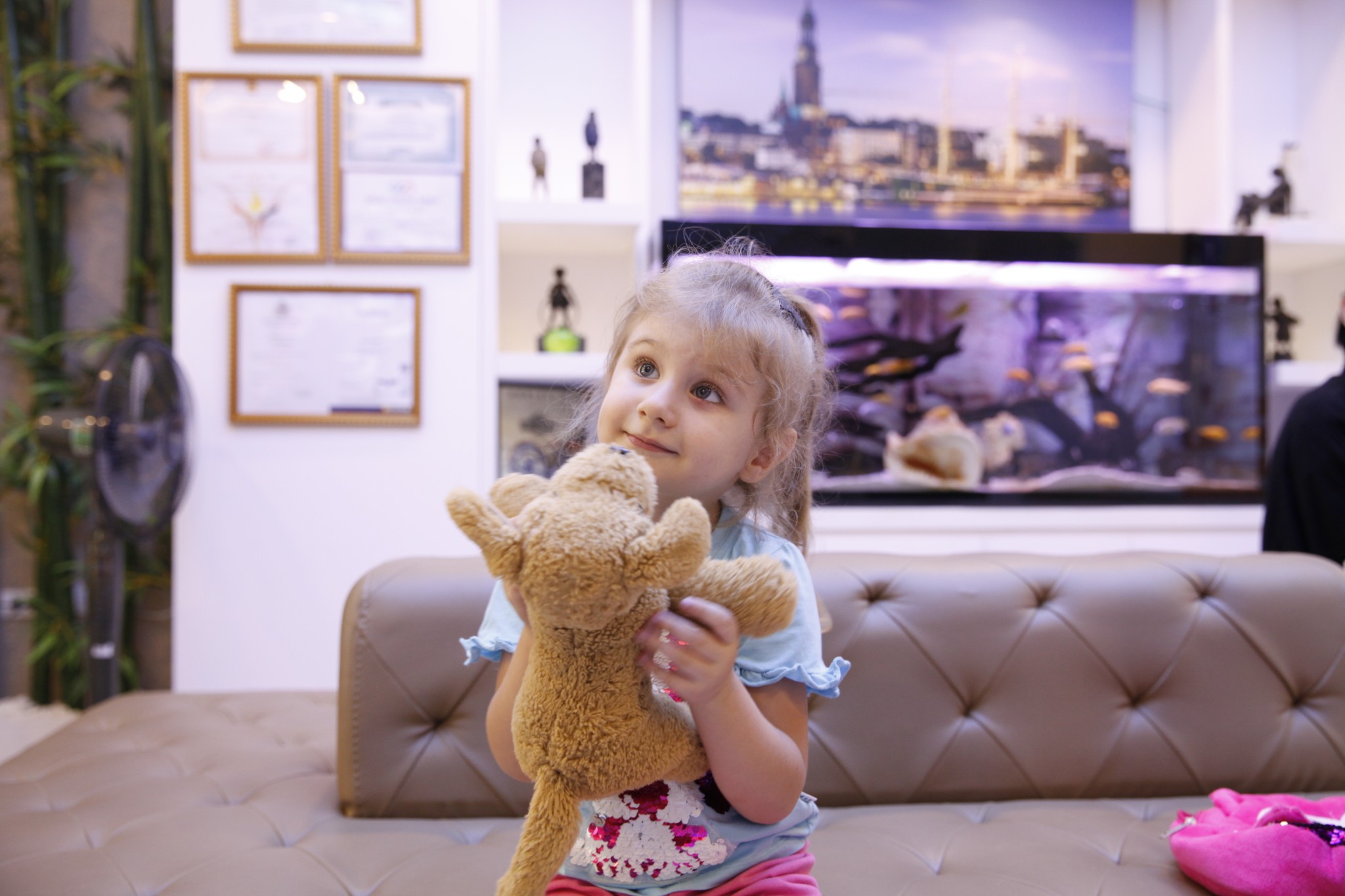 Taking your kids to the dentist may be a challenge until you find out Home Dental. Here, we create very kid-friendly atmosphere with 1000l fish tank, playing area with legos and special decoration treatment room for kids. And our dentists love kids.
And now, it's time to discover our great dental package for your family. You can save up to 33% by buying this package. It includes:
+ 4 times of comprehensive examination and consultation
+ 4 times of teeth cleaning for adults, which is equivalent to 800.000VND
+ 2 times of 3D CT conebeam scan, which is equivalent to 800.000VND
+ 6 units of tooth colored fillings, which is equivalent to 1.200.000VND
+ 2 times of tooth cleaning for your kids, which is equivalent to 200.000VND
So the full package is equivalent to 3.000.000VND. But you have to pay 2.000.000VND only for a whole year care. Besides that, your family will become our royal patients and get 10% off for all other treatments. What's a great deal!
Don't wait if you and your family are settling down in Hanoi and want healthy beautiful smile for everyone.
Please call us at 0994 66 5656 or fulfill the form below and we'll get back to you shortly.